Back to search results
Belzona 325 Center Console: Fishboxes Big Enough for Lenny
Senior Editor Lenny Rudow really gets into his reviews, especially when the fishboxes are large enough to hold him.
I really like boats with big fish boxes. I mean, really big fish boxes. And I just found the Belzona 325 Center Console. Let me tell you something: this boat has got some BIG fishboxes!

It's not often that you find a whole new boat. And this boat is completely new. I mean new from the ground up. The hull, the console, everything. And luckily, I ran into Joel, the owner of Belzona, here in Fort Lauderdale. What's your favorite thing about this boat?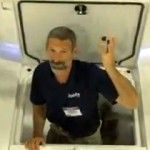 Joel: Definitely my favorite feature on this boat is the sliding side doors. It gives you a 40 inch swim platform on either side of the boat, so you can have the swim platform of an inboard boat with all the advantages of outboard power.

Lenny: And this door slides really easily. I love it.

Joel: Thank you. And once you've got the door open, there's a four step Armstrong dive ladder that comes out from underneath the door. It gives you really easy access from the boat into the water.

Lenny: Nice.

Watch our Belzona 325 Center Console Short Take on YouTube: