Back to search results
Beneteau Barracuda 9 Boat Test Notes
Notes from the boat review/performance test of the Beneteau Barracuda 9.
Watch the Beneteau Barracuda 9 Video Boat Review

Overview
This outboard-powered boat offers a full-sized cabin, yet has the 360-degree fishability of a center console.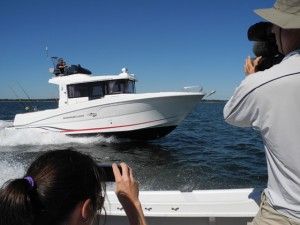 Concept



Create a boat which can be used for both cruising and fishing, without making major sacrifices in either activity.


Utilize Beneteau's Air Step hull, which boosts efficiency, reduces time to plane, and improves handling.


Utilize a pilot house design to provide full protection at the helm and a large cabin area including a full stand-up head, while allowing for a wide walkaround that's comfortable to use.


Include a flying bridge option, on a boat size that usually doesn't have one.


Construction & Design


The Air Step hull design works – with 500 horses on the transom it's unusual for any boat to get good fuel economy, but we hit 1.6 miles to the gallon while at cruising speeds.


Fit and finish is excellent, and the boat's upholstery is a grade above the norm. Helm seats, which include flip-down bolsters and adjust both fore/aft and up/down, provide an excellent example.


Love the hefty hardware used on the folding transom gate and folding tables in the cabin.


Performance:


At a 4000 RPM cruise, we ran at over 35-mph.


Top-end was 49.6-mph; with a lighter load this will be a 50-mph boat.


Handling:


Handling is excellent, and taking sharp turns while sitting atop the flybridge is down-right fun.


Another perk of the Air Step: the boat jumps out of the hole and onto plane quickly and smoothly, and rides with a level attitude.


Unique features:


One-of-a-kind flybridge is more substantial than it appears at first glance, with seating for two, room for electronics at the helm, and sturdy rails.


There's a full-sized V-berth, even though there's a roomy bow cockpit.


Folding transom gate allows for more cockpit room.


This boat impressed us so much, we put it on our list of the Top 10 Fishing Boats of 2012.