Back to search results
Boats We Love: Nothingmore, with Chip Hanauer, the Boat Guy
The Nothingmore is a fascinating boat, but even more fascinating are the people behind it.
Nothingmore was built in 1970 by Vic Frank for Jim Clapp of Seattle. Frank was also from Seattle, and one of the elite builders in the Northwest at the time. What really makes the Nothingmore stand out is her power: twin Lycoming T-53 helicopter engines. Jim Clapp was an innovator, and he brought his idea of using turbines in marine applications to the world of Unlimited hydroplane racing.





Although Clapp's T53-powered hydroplane never won a race, it blazed the trail for a sport that now runs nothing but Lycoming turbine engines. It also gave me my first job in racing, cleaning the shop while I was in high school.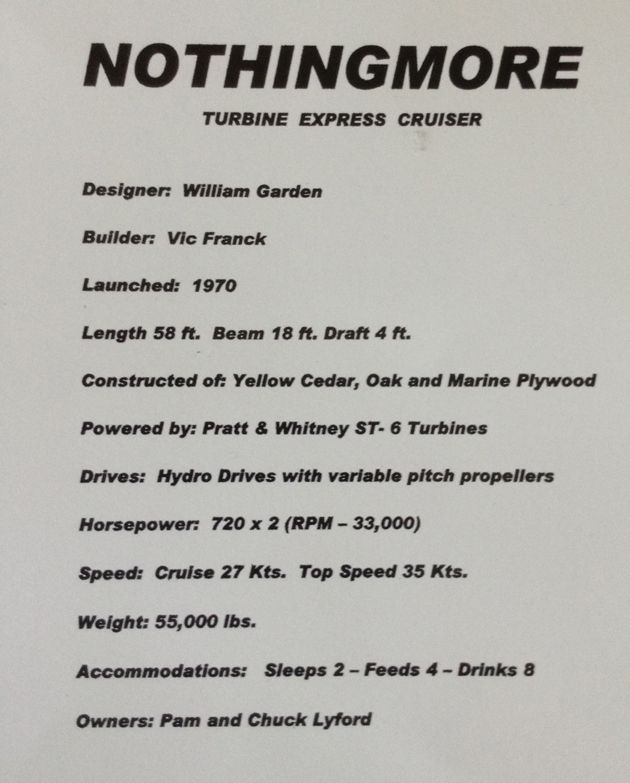 Nothingmore is happily still in the family. Jim's widow, Pam Clapp Lyford, continues to spend months on the boat every year in cozy anchorages in Washington, Canada, and Alaska with her husband, Chuck Lyford, who was the man who brought Jim's dream of innovative turbine boats to life. They are both long-time dear friends of mine, and I value them greatly. Which is an important part of why I also value their boat.

Editor's Note: To see and hear Nothingmore's turbines in action, watch Turbines and Milk Cartons? on The Boat Guy's website. (Though as you'll see, Milk Cartons really comes first.)