Back to search results
10 Tips for Choosing Foul Weather Gear: Rain Jackets, Bibs, Boots, and More
Most foul weather gear looks great on the rack, but how can you tell if that rain jacket will keep you bone-dry?
Whether you're a sailor, an angler, a cruiser, or just an all-around boat-lover, you need to have a good set of foul weather gear. Unfortunately, quality rain jackets and bibs can get pretty expensive. And what's worse is you won't know how well they perform until you stay bone-dry—or not—in a downpour or a soaking spray. At least, you won't unless you know what to look for. There are some things you can inspect on foul weather gear which help you know just how well it will or will not work through years of use. To get some insight into this topic, I joined a rep from Grundens, the company known for producing the toughest foul weather gear in the world, during a day of running through the open Pacific on a small, wet boat. Watch what I learned as we went through this Gage foul weather gear, made by Grundens.



1. Hoods and Cuffs – These parts of a rain jacket and bibs must be adjustable, so you can tighten them up to keep water out. Draw strings may work for the hood, but look for rugged Velcro fasteners at the cuffs.

2. Zippers – No zipper is 100-percent waterproof, so zippers need to be protected by a flap (commonly called a storm flap). This flap should secure over the zipper, so no big gaps open up as you move.

3. Seams – Stitched seams don't cut it; then need to be "welded" shut, to cut off the flow. To check seams, turn the jacket or bibs inside-out. You should see a strip of cloth glued down over the seam, completely covering it up.

4. Suspenders – Bibs with suspenders are far better than those with an elastic waistband. They stay up better, and provide protection well above the bottom of the jacket, to make sure no moisture makes its way between the two.

5. Knees – The knees of your bibs should be reinforced, because this is a spot that takes a lot of abuse.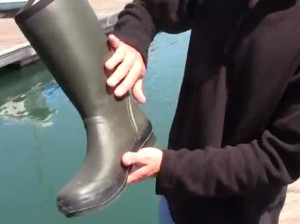 6. Boot Height – If you really want to stay dry, reach for boots that come up to your calves, at least. Short booties are far to easily over-topped.

7. Boot Soles – These need to be boat-friendly, and have a sure-footed grip on fiberglass. Some waterproof boots designed for landlubbers will slip right across the deck.

8. Boot Laces – Forget about 'em; if a boot laces up, you can expect leakage from the lace's lowest point. It may be harder to get into and out of boots that don't have laces, but it's a trade-off you need to accept.

9. Colors – We like the classic yellow color for foul weather gear, and bright oranges and reds are even better. Stay away from black jackets, which are tough to see if you go overboard, and jackets with reflective strips at the shoulders get bonus points.

10. Material Differences – A lot of inexpensive gear is PVC; while this shuts out the water, it also doesn't breath and sweating can be a major issue. Inexpensive, thin PVC will also become brittle in the cold, and rip easily. Polyurethane is generally better, but still isn't incredibly strong. Breathable fabrics (like Gore-Tex or microporous and coated hydrophilics) are a big step up in both comfort and longevity. Neoprene works well for some applications, too, but it tends to be hot, heavy, and expensive.