Back to search results
2014 Delphia 34: First Look Video
Join reviewer Dieter Loibner aboard this new sailboat, built in Poland.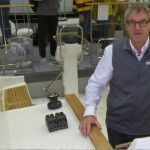 Delphia Yachts is Poland's largest manufacturer of sailboats with a range of eight models. Based in Warsaw, the company produces over 150 boats each year and this year launched two new yacht designs: The Delphia 34 is the larger, and the other is the Delphia 29. Our reviewer found one at the Dusseldorf Boat Show, and climbed aboard for a closer look.

See it for yourself in this first look video by boats.com reviewer, Dieter Loibner.