Back to search results
2014 MasterCraft StanCraft Edition: First Look Video
The MasterCraft StanCraft edition was a show-stopper, no doubt one of the best-looking ski boats at the Miami show.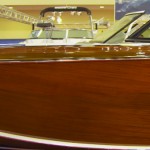 The MasterCraft StanCraft edition was one of the real eye-catchers at the Miami boat show. This wooden boat is a work of art, built with a StanCraft hull and a MasterCraft interior. Join reviewer Brett Becker for a look at one of the most unique ski boats of 2014.

https://www.youtube.com/watch?v=TFc3ZO-ywsc

That boat sure is a beauty, isn't it? For more information, read Brett's full review, 2014 MasterCraft StanCraft X30: Vintage Modern.