See more articles
Dusky 278: Take a Video Tour
Lenny Rudow brings us along on a quick look at the Dusky 278.




What we've got here is a Dusky 278 center console with a pair of Evinrude's latest motors: the 135 HOs.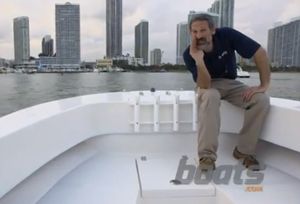 The 278 is a very straight forward, simple boat, a light boat. And that's how it can get by with a pair of 135s. But wait a minute. Is 270 HP really enough to push a 27 foot boat?

Now I don't care how power-hungry you are, that is plenty of juice for anybody!

Is this a fanciest boat in the world? No. You'll find some plastic. But when you're talking about a 27 foot boat with a pair of Evinrude 135 HOs that lists at less than $60,000 base boat? That's a bargain.

Read the full review of the Dusky 278: More LOA for your Money.