Back to search results
Tiara 44 Coupe: First Run
This running footage of the all new Tiara 44 Coupe is so sweet, "eye candy" is an apt description.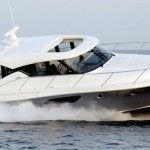 We don't usually publish manufacturer-produced videos, but these views of the new Tiara 44 Coupe were too good to pass up. Don't worry, there's no marketing or sales pitch in here - it's pure running footage of a perfect-ten-beautiful cruiser.

We spent an afternoon putting the 44 Coupe (rigged with Volvo-Penta IPS pod drives) through its paces on Lake Michigan, so you can read our full review, Tiara 44 Coupe: Slick Maneuvers.



If the 44 seems a smidge on the small side for your taste, don't worry - there's a 50 footer, too. Read our full review: Tiara 50 Coupe: The Captain's Boat.