See more articles
Maritimo M58: Short Video Tour
Jeanne Craig takes us around a versatile boat from a well-known Australian builder: the Maritimo M58.




We've come inside from the Miami heat and we've picked just the right boat. This is the Maritimo M58. It's a cruising boat, family boat, fishing boat, all around boat.



One of the best features is this enclosed bridge. With it you can cruise any season, any weather, any time. You can use this boat all year long.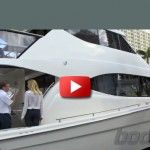 Maritimo is a company based in Australia. We all know them as a manufacturer of robust hulls that are very seaworthy. But on the M58 the builder proves it knows a lot about comfort, too. The owner's going to love this master suite which is full beam. And it's expansive, even with straight shaft inboards that power the boat.

Read our full review: Maritimo M58 Motoryacht: Sky Box