See more articles
Oracle Flying toward 2013 Americas Cup
Our UK Editor, Gael Pawson, likes what she sees in the latest video from Oracle Team USA.
The spectacle of Oracle Team USA foiling is a sight for sore eyes - especially those sore eyes that witnessed its spectacular demolition at the end of last year (see Oracle AC72 Capsize: Amazing Photos and Oracle Team USA Capsize: The Video).



&feature=share

This fabulous footage shows Oracle Team USA "17" comfortably back on its boards and flying high. The shore crew has been busy improving various aspects including the cockpit layout, and with the boat back on form, the team's attention has turned to the development for the crew - learning how to sail the boat and building on their boat handling.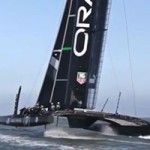 The Louis Vuitton Cup (the series for the Challengers to the Cup holders, Oracle) is due to start on July 4, 2013, while the America's Cup itself starts on September 7.