Back to search results
Yamaha VX Cruiser: Quick PWC Ride
Charles Plueddeman takes us for a ride on the Yamaha VX Cruiser.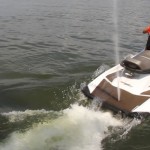 Let's go for a ride on the all-new Yamaha VX Cruiser, which has added some updated features including no wake mode and cruise assist. It also includes a ride feature on the left handlebar that allows the rider to electronically control the reverse mode.

https://www.youtube.com/watch?v=Uudy2qaScm4

Read our full review: 2015 Yamaha WaveRunner VX PWC Series: Longer, Lighter, Stronger. Meanwhile, you can check out the rest of our PWC reviews and information.