See more articles
Sabre 452: Bob Perry Review
Sabre 452: Comfortable cruiser with good performance characteristics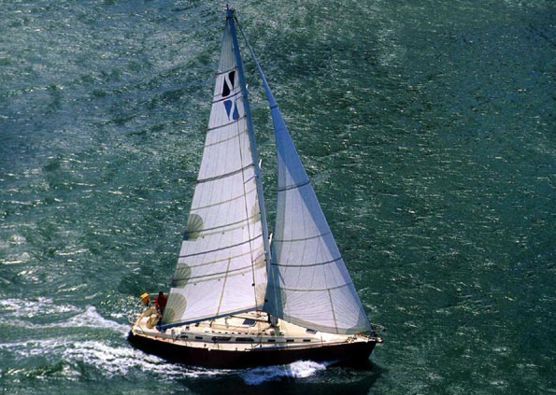 Sabre and Jim Taylor have teamed up to give us a fast and comfortable family cruising yacht. The displacement is listed as "light ship" and I would second that. It seems too light to me. Still, we have to trust the literature we have, and based upon a displacement of 26,500 pounds, the D/L ratio is 210. I think that is at the low end of the range for this type of boat. Let's say, for instance, that when you load this boat you actually end up displacing 30,000 pounds. That will sink this boat about 2.5926 inches. Big deal. The transom is still well clear of the water and the bootstripe is still showing. You'll give up a little acceleration and pick up a bit of stability. That seems like a reasonable trade for a cruising yacht.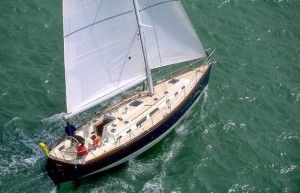 The rig is a simple masthead sloop with triple spreaders, it's easy to tune and maintain in tune. You have the option of adding an inner forestay so that you can reduce sail in a breeze, but I think that the value of this option is overestimated. If you have 25 to 30 knots of true wind over the deck, you should be able to keep this boat comfortably on its feet with a 95-percent blade jib and a single reef. Be honest with yourself and consider how much time you spend sailing in breezes of 35 knots and above. The SA/D ratio is 18.77 and that's about perfect for this type of boat.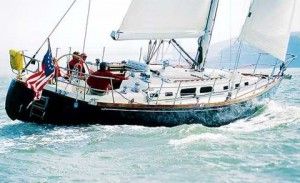 I like just about everything about this interior layout. I'm not wild about two heads, but I understand that this is desirable for some cruising groups. I like the idea of the double V-berth. V-berths seem to have fallen out of favor, which is a shame. There are few things you can do with the pointy end of the boat, but V-berths fit well. If you push the head forward and put in a Pullman-style double aft of the head, you will actually lose useable interior volume.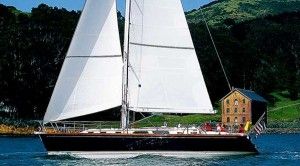 I love big galleys and this is a good one, with adequate amounts of counter space and a good-sized bank of drawers separating the range from the refrigerator. There is an additional bank of drawers just outboard of the sinks.

There is water tankage for 132 gallons and fuel tankage for 70 gallons. That's impressive for a boat like this. Tankage usually suffers when you try to reduce displacement. If you are the type that hates to get passed while cruising, I would advise you to take a look at this boat.

Comfortable cruiser with good performance characteristics.

Boat Specifications
| | |
| --- | --- |
| LOA | 45'2" |
| LWL | 38'4" |
| Beam | 14'1" |
| Draft | 6'9" (standard fin) |
| Displacement | 26,500 lbs. (standard fin) |
| Ballast | 10,200 lbs. (standard fin) |
| Sail Area | 1,043 sq. ft. |
| SA/D ratio | 18.77 |
| D/L ratio | 210 |
| L/B | 3.21 |
| Auxiliary | Yanmar 72-horsepower diesel |
| Fuel | 70 gals. |
| Water | 150 gals. |

Sabre Corp.
www.sabreyachts.com