See more articles
Cabo 36 Express: Pod Power to Please
A powerplant makeover yields both fuel-efficiency and added maneuverability.
How do you take an offshore fishing boat with a 30-knot cruise, like the Cabo 36 Express, and maintain that speed while burning significantly less fuel? How would you make it handle better and ride flatter, at the same time? How do you turn it into one of the Top 10 Fishing Boats of 2012? Maybe you could use magic. Or maybe modern technology offers a better chance of success.





The 36 isn't an old model by any measure, having been introduced a few short seasons ago and getting an interior upgrade just last year. But with new pod technology, rising fuel prices, and diminishing discretionary budgets, it made sense to redesign the belly of this beast to hold a pair of 460-hp Caterpillar C9 ACERT diesels coupled to ZF pod drives. And the net result seems like some hocus-pocus must be involved: The boat can maintain its 30-knot speed (originally provided by 575-hp diesels coupled to traditional straight shafts) while posting a significantly reduced fuel burn (around 35 gph at cruising speed as opposed to about 40 gph). But after taking one off the dock, we have no doubt that this new configuration's biggest asset isn't even related to the efficiency boost.

Our test run took place in Fort Lauderdale during the boat show, and to say that the marina was crowded would be the understatement of the year. After casting off the lines we made it halfway down the canal and hit a traffic jam; three other boats were coming in the opposite direction, and there wasn't enough room to pass each other. There was, however, an opening between two piers to starboard, which was about 40 feet across and 20 feet deep. Normally, jiggling a 36'boat sideways into a 40' wide slot and holding it there against the current for several minutes would be like trying get a 747 to hover—read: suicidal—but in this case, all it required was pushing the joystick sideways and pressing a button. Thanks to independently-steered pod drives, GPS, and sheer chip-generated brainpower, this boat has the ability to maintain its position against the wind and current. We merely crabbed out of the way, pressed "go," and sat right where we had parked until all of the other boats had passed and the canal was clear.

The possibilities this type of dynamic positioning opens up are endless. You'll no longer have to play throttle-jockey while killing time before bridge openings. Forget about turning circles while you wait for an opening at the fuel dock. And when fishing over reefs or wrecks you can try the spot for a while before deciding whether or not to drop the anchor and stay.

Also consider just how much easier it will be to push a joystick in one direction or another instead of turning the wheel and opposing the engines when you're trying to get into your slip. Remember an embarrassing docking experience or two? They'll be things of the past. And there's yet another advantage to running with pods – it's in the attitude of the boat. There's no shaft angle to contend with, and automatic hydraulically-actuated trim tabs integrated into the system keep the boat running at its most efficient angle.



Okay, so the Cabo 36 Express with ZF pods has better efficiency and maneuvering, as well as position-holding and running attitude perks. But what else does it have to offer, especially for the angler? After all, this is supposed to be a hard-core canyon runner, right? Youbetcha. The unencumbered cockpit is capped at the transom with a 40-gallon livewell, which could be improved upon by adding a gasket to the hatch to prevent slosh-out. Naturally, there's a raw water washdown, under-gunwale rodracks, a pair of integrated fishboxes in the deck, and flush-mounted rodholders atop the gunwales. Forward cockpit units hold a bait freezer to starboard and a rigging station to port. There's also a tackle station on the upper deck, behind the helm. Surprisingly, however, one of the better fishing perks is actually found in the cabin. Instead of sporting the usual V-berth, there's a split over-under double and single berth forward. Add in the dinette berth, and three smelly fishermen on an overnighter at the canyons can catch a nap without packing in like sardines.

The cabin also features a full galley with a two-burner cooktop, a microwave/convection oven, a refrigerator/freezer, and a sink. Another place you'll want to take a peek is in the head, which features a separate shower stall. That's a whole lot better than the pull-out faucet and wrap-around curtain usually found on express boats of this size.

One beef in the cabin: The stove cover on our test boat rattled and vibrated, due to an imperfect fit. It's an easy item to fix, but if you drop big bucks on a boat like this, you'll want to make sure its been addressed. And chances are this was a one-time glitch found on our test boat. Cabo has proven through the years that they put a strong emphasis on quality, especially when it comes to details like this. Just consider the rest of the boat's construction, for proof. The hull is vacuum-bagged biaxial stitched glass with vinylester resin; the tinned-copper wiring is loomed ramrod-straight, and is labeled; fuel lines are aircraft-grade braided stainless-steel, and the hull and deck are completely bonded to create a single-piece structure. Hardware is thoroughly oversized— for example, take a look at the massive hinges on which the deck swings up to provide engine-room access.  The gas-assist struts and hydraulic rams found on the hatches and deck are sized for 40-foot-plus boats. Even the aluminum-framed windshield is a cut above, with an electrically-actuated center vent.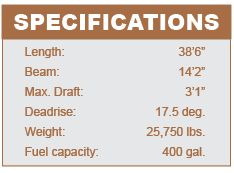 Put all of these construction factors together, and you get a chunka-chunka boat. In fact, the Cabo 36 Express weighs as much or more than most other boats in this class, tipping the scales at 25,750 pounds. Most expresses in this size range will weigh in between 1,500 and 5,000 pounds less. Combine that hefty displacement with the 17.5-degree running bottom, add in the stout construction, and you'll have no problem understanding why the Cabo crushes waves underfoot. During our test run the breeze had churned up a steady diet of three-footers, yet running at cruising speed was a piece of cake.

Unfortunately, when we returned to our slip we encountered yet another traffic jam. No worries, though. With a flick of the joystick and a press of the button, we enjoyed the down-time and chatted as the boat held its position all on its own—no abracadabra necessary.

Other choices in this class of boat are the Albemarle 360 Express, Out Island 38 Express, Rampage 38 Express, and Tiara Yachts 3600 Open.

For more information, visit Cabo Yachts.  Also visit Cabo on Facebook.

- Lenny Rudow

Connect with Lenny on Google+