See more articles
Captiva 200 MTX: A Nifty Little Runabout
Rinker has a new 20-footer offering new and veteran boaters a great package.
Fall is bittersweet. The air is crisp and the leaves begin to change as we savor those last few boating days of the season. Soon we'll have to tuck the boat away for winter. That's the bitter. However, boat-show season is just gearing up, and the new models begin rolling out. That's the sweet.





Rinker's new 200 MTX is just one of a host of new-for-2011 models, and it's worth a serious look because it is the kind of runabout that has the uncommon ability to attract new boaters and those looking to move up from something smaller.



For new boaters, the 200 MTX is appealing for a number of reasons, not the least of which is its price. With a MerCruiser 3.0-liter four cylinder and an Alpha One drive, the 200 MTX has a base price of $24,837. In addition to being affordable, it's also falling-leaf light, which makes it easy to tow. Weighing in at just 2,690 pounds, the 200 MTX doesn't require a big honking SUV to tow it, and that means new boaters likely won't have to shop for a new vehicle too. Virtually any midsize SUV can pull it.

In fact, the 200 MTX is actually 52 pounds lighter than last year's 190 MTX—and we all know that low mass is its own reward. For example, buyers can go with smaller engines, yet not compromise much in the way of performance.



"It was designed to give you the best performance possible, even with smaller engines," explained Mike Kamaloski, Rinker brand manager. "The boat is very quick to plane and will maintain its plane at very low speeds, which is great for watersports."

If buyers want more power, they can opt for a 4.3-liter V6 from either MerCruiser or Volvo Penta. Even if buyers opt for the 225-horsepower 4.3 GXi and DuoProp drive from Volvo Penta, MSRP is still an affordable $29,797.

With its 16-degree deadrise, the 200 MTX climbs on plane in just three seconds, according to the manufacturer. That makes it a breeze to drive, something novices and seasoned boaters can appreciate.



They'll both appreciate the deep cockpit and high freeboard of the 200 MTX. A Rinker design hallmark, the deep cockpit helps create a feeling of safety, especially for families with small children, and Rinker has added new padded coaming panels to the cockpit for 2011. However, in the 200 MTX, Rinker also moved into new territory in designing its bow.

"The MTX was created to give you maximum useable space in a small footprint," Kamaloski said. "The 'pickle fork' bow design allowed us to carry the wide beam as far forward as possible creating a very large bow area. Much larger than any conventional design."

For 2011, the 200 MTX includes as standard equipment an extended swim platform with a stainless steel boarding ladder, a gas strut to support the ski locker lid and new cockpit vinyls and color layout.



In terms of notable options, buyers can get custom hull colors with a matching dashboard. The deluxe sports package comes with a bimini top, snap-in carpeting, a depthfinder and a tilt steering column. You also can get an optional wakeboard tower and a sunpad walk-through.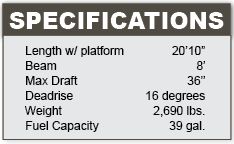 Of course, the 200 MTX is appealing even in standard trim.

"The look is sleek and aggressive and the price point is very competitive," Kamaloski concluded. And those are attributes that appeal to all boaters.

For more information, visit the Rinker website.



Editor's Note:
Brett Becker
is a freelance writer based in Ventura, CA. He covers the marine, automotive and racing industries for various print and web titles.