Back to search results
Carolina Electric Boats: Green Fishing Machine
Enjoy excellent maneuverability and environmental responsibility in the Twin Troller X10.
Carolina Electric Boats has a unique offering for the freshwater pond and lake angler: the Twin Troller X10. When you're ready to go on the prowl for crappie, bass, walleye, and trout, these nifty little rotomolded polyethylene boats will get you where other fishboats don't dare go – and without burning any gas.





The Twin Troller X10 is stable despite its small 10' by 4' footprint, thanks to its cat hull and low center of gravity. In fact, two anglers (the boat's maximum capacity) can stand on one gunwale at the same time without a problem. And that small footprint has some big advantages: it fits perfectly into the bed of a pick-up truck (and some large SUVs), negating the need for a trailer; it can poke into tight creeks and cover where other boats won't fit; and draft is a mere six inches.

Rotomolded construction forms a single, seam-free skin that sandwiches foam, so the boat can't possibly sink. The polyethylene itself is colored so scratches and dings don't show up, though you'll have to work pretty hard to put a chink in this armor in the first place—poly boats are as close as it comes to indestructible, and I've seen them take four foot falls onto asphalt without a hint of damage. And there are a lot of fringe benefits to this construction method: cup holders, rod and reel pockets, a ruler, and wiring runs are all molded right into the boat.



The most unusual – and useful – feature that's molded in, however, is the power system. Each hull has a pocket in the center, which houses a 36-pound thrust Motorguide electric motor with a fully recessed prop that's further protected by a weed guard. Between the awesomely rugged polyethylene construction and the recessed motors, you can scoot through anything from stump fields to boulder-strewn rivers without fear.

Maneuverability is another major advantage of the Twin Trollers design. With a pair of props located close to amidships and controlled independently, you can spin the Twin Troller on a dime—literally—and make 90-degree turns. That means holding the boat over underwater timber or other structures is a piece of cake, even in a breeze. You'll never stop casting, either, because the motors are controlled via a pair of foot pedals, not a wheel or tiller arm, leaving your hands free to fish.



What are the downsides to running a Twin Troller? Naturally, the boat's small size limits it to protected waters. And with a single deep-cycle battery, your range is limited. It varies quite a bit depending on how fast and how continually you run the motors, but expected running time is around six hours. The standard battery is an Interstate SRM 29 or equivalent. The boat is also rated to carry a two-horsepower outboard, so if you want to run farther, you can clamp a little gas-powered eggbeater onto the transom.



Though you can't exactly expect the Twin Troller to hop up onto a plane, performance with the twin 36-pound thrust motors (equal to about two horsepower) is great for enclosed waters. Top-end and cruising speeds will vary with the battery's charge level, but you can plan to scoot along at jogging speeds most of the time, and when the battery is fresh, break out in a full run.

Similar rotomolded polyethylene boats in this size range include the Leisure Life Bass Tender and the Sun Dolphin 120, but these boats require add-on electric outboards. The price of the Twin Troller, however, is at the higher end of the scale for a pond-hopper. The base model, which includes a pair of rail-mounted seats, the powerplants, and foot pedal controls, lists for $2,395. Add on a two-horsepower Honda outboard and a trailer, and price goes up to $3979.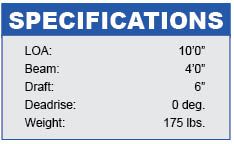 Other options available include an Eagle Cuda 300 fishfinder, a battery box, an onboard ProMariner five-amp battery charger, adjustable rodholders, and cleats. Another option which is rather unusual is color choice; with no extra charge, you can choose from Oak Moss Green, Clearwater Blue, and Backwater Beige. Whatever options you choose, however, one thing is for sure: sitting in a Carolina Electric Boats Twin Troller X10, you'll be able to fish where few boats have fished before.

For more information, visit Carolina Electric Boats.



Lenny Rudow has been a writer and editor in the marine field for over two decades and has authored five books. He runs his own web site at HookedOnFishingBoats.com and writes weekly for Boats.com reviewing new models and covering marine electronics.