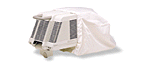 The Carry-On is the only hatchtop air conditioning unit that's designed specifically for the marine environment. It's ideal for boats that are too small for installed seawater-cooled air conditioning systems. It installs in minutes and it pumps out 4800 BTUs of cool, dry, relief.

The Carry-On fits in any standard-size hatch. The adjustable, waterproof cloth hood fits over the unit and the hatchcover, sealing in the cool air and keeping out insects and rain. There's an adjustable leg and a convenient bubble sight glass on the outside of the unit making it easy to level. And when you leave the dock, the Carry-On stows below deck, in your dockside locker or in the trunk of you car.

All operator controls are easily accessible on the bottom of the unit. You can turn it off and on, set the thermostat and adjust the fan speed from the cabin.

The Carry-On runs on normal dockside 115V, 60 Hz power. (A 230V, 50 Hz model is also available for areas outside North America.) It only draws 6 amps running. All internal components are made of corrosion-resistant material, and the outside case is built of tough, durable polymer.

We recommend adding the Carry-On Air Deflector (an option) to divert airflow from vertical to horizontal.

| | |
| --- | --- |
| Capacity | 4800 BTU/HR |
| Height (above deck) | 133/4 in (350 mm) |
| Length | 301/2 in (775 mm) |
| Width | 153/4 in (400 mm) |
| Weight | 60 lb (27 kg) |
| Amps (Running) | 6.0 at 115V (3.0 at 230V) |
| Amps (Starting) | 18.0 at 115V (9.0 at 230V) |
| Minimum Hatch Size | 12 x 12 in (305 x 305 mm) |
| Maximum Hatch Size | 24 x 24 in (610 x 610 mm) |

$729.95

Available from Pyacht.com