See more articles
Centurion Enzo FX-22: Wakeboarding with the Sharks
Centurion ushers in a new era of style and wake-building performance with its Hammerhead-bow Enzo FX-22.
There was once a time when top-ranked wakeboarding boats didn't weigh all that much until you pumped the ballast tanks full of water and added as many of your friends as you could find. Now, wake surfing has become such a draw that manufacturers are making boats longer, wider, and heavier, so owners can get the bigger wakes they want regardless of how many people are on board. Centurion was one of the first builders to embrace wake surfing, but with the new Enzo FX-22, the company is taking it up a notch.





"This boat is the culmination of all the years of marine experience that Rick Lee and the design team at Centurion have," said Jim Emmons, marketing director for Centurion Boats. "It blends his passion for automobiles and racing, and utilizes the same techniques and design elements that are coming together to combine form and function in a new and stylish way that the boating market has never seen before."

In terms of style, perhaps the most striking aspect of the FX-22 is the Hammerhead bow, with its distinctive twin intakes at the front. Trimmed with carbon fiber, the openings feed air to the engine, so they provide both form and function.



"Every boat has some way of getting oxygen to its engine compartment. Usually it comes from vents that are mounted on the side of the boat," Emmons said, adding that this is not just another pickle fork design. "This way, Rick was able to design a cool, stylish look that was inspired by the automobile racing industry and at the same time it serves a dual purpose."

So, the intakes already make the FX-22's bow look the part of its namesake, but Centurion took it a step further with three "gills" molded in atop each gunwale at the bow. Each gill also can be fitted with optional LEDs that emit a nifty blue light at night. In addition, bow lounges feature handy flip-down arm rests.



After the boat debuted at the Centurion dealer meeting in May at Lake Las Vegas, it went right back to the factory, where it underwent further R&D with company engineers and pro riders to fine tune its wake-building systems. According to Emmons, the boat will get a graphics wrap, then make its public debut at the wake surfing national championships outside Orlando, Fla., June 29 through July 1. It won't be pulling the competition, but it will be on hand for Centurion riders to practice with.

"If it gets the nod that we think it will, then it will be rolled in as the official tow boat for events moving forward," he said.

In keeping with the electronics revolution sweeping the market, the FX-22 also comes with the new Centurion Touch Vision dash display, which allows the driver to tailor the boat's performance to a given rider's needs and save their preferred settings—up to 10 of them.

"We're excited about this new dashboard. It gives information in an intuitive and intelligent way," said Les Clark, vice president of manufacturing. "Our team has worked on this for a long time. Our dealers and pro team love it and it's a huge improvement going forward."

At 4,800 pounds (200 pounds heavier than the line's 2012 flagship, the Enzo 244,) even without added ballast the FX-22 is poised to throw big wakes, but Centurion also included some plush touches. For example, the vinyl upholstery features accents that mimic the carbon fiber used in the bow intakes. It also offers its latest Aegis tower, which collapses seven inches lower than the 2012 model. It also can be fitted with a hardtop, which is a first among wakeboard and wake-surfing boats.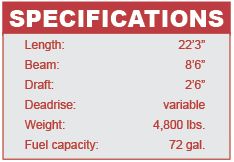 Interested buyers will have to wait for the boat to hit dealer showrooms at the end of August. Power choices will come from Pleasurecraft Marine, and range from the base EX 343, to the ZR 409, ZR 450 and XS 550. Base MSRP is $86,570.

For more information, visit Centurion Boats.

-Brett Becker