See more articles
Chaparral 204 Xtreme: Runabout or Tow Boat?
This new model skillfully blurs the line between tow boat and runabout, making it the world's first "towabout".
Leave to Chaparral, with its Xtreme line of tow boats, to build a runabout aimed at luring enthusiasts away from bonafide tow boats. That takes some serious boat-building chutzpah and in most instances, it would be what those risk-averse marine industry consultants call "ill-advised."





The company even calls them tow boats in its literature, but these are still stern drive powered. The cool part about the 204 Xtreme, the smallest in the lineup, is that it includes what you need for skiing and wakeboarding – things like a tower and board racks – as standard equipment. And because Chaparral enjoys the economies of scale of a volume builder, it can do it at a price point that's appealing.

Base price for the 204 Xtreme is $62,631, which includes the aforementioned tower and board racks. That may not be as budget-minded as some of their other offerings, like the entry-level, shockingly inexpensive 18 H2O Sport, but the 204 Xtreme is clearly in a class well above that level. It includes a choice of three gelcoat schemes, white with black or red hull-and-deck accents and red with black hull-and-deck accents, the second of which looks like something Chaparral could charge extra for but doesn't. Base power is the 260 horsepower MerCruiser 5.0 MPI, with digital throttle and shifter, and the dual-prop Bravo Three drive. In most cases that's plenty of power, but you can get yet another 40 horses in the 5.7 liter MPI V8 with the DTS Bravo Three for just $2,640 more. That's $66 per unit of horsepower and in the marine market, that's a bargain. A 270-horse Volvo-Penta engine and DuoProp drive is available, too, if you prefer.



One key to the boat's usability for wakeboarding is the standard dual-propeller drive. Twin propellers keep the boat on plane at lower speeds, which is a necessity for wakeboarding. Go too fast and the wakes flatten out and the rider starts whining.
x
At the helm, Chaparral kept things simple and straightforward with just a few dials, a Ritchie compass and a center stowage compartment. You can get Zero Off speed control if you opt for Volvo-Penta power, but that costs nearly as much as the 300-horsepower MerCruiser unit – and we'll take more power almost all the time.

Up in the bow, the 204 Xtreme makes great use of what we'll call a modified pickle fork design, which means it's nice and wide. There's lots of stowage under the lounge cushions, a self-draining cooler at the front, and a latching anchor locker with stanchions for a Danforth anchor. The anchor is extra, but you can pick one up at West Marine for less than what Chaparral charges. You might even have one in the garage.



In standard trim it's watersports-ready but if you have the means, a couple of options might be worthwhile. First, snap-in carpeting is something you likely will appreciate long after you've paid the $592 for it. Likewise, the premium bucket seats have convenient levers on each side of the bolster that let you adjust it up or down or unlock it to swivel. No more sticking your head underneath to find the dang levers and for $577, it might be worth it for some buyers.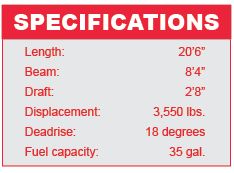 At the stern, Chaparral really brings it all together for watersports enthusiasts. For example, the starboard side of the sun pad lifts to reveal a walk-through topped with SeaDek and a locker underneath. To port, the 32-quart Igloo cooler is accessible from the platform, cockpit or the dock.

To accomplish building a watersports-capable runabout that can make a play for the tow boat market is truly an accomplishment. Chaparral has done just that with its 204 Xtreme – it blurs the line between tow boat and runabout, and does it well.

For more information, visit Chaparral Boats.

-Brett Becker