See more articles
Crestliner 1650 Fish Hawk: Video Boat Review
Charles Plueddeman reviews this compact fishing rig from Crestliner.




Read Charles' Crestliner 1650 Fish Hawk Boat Test Notes

Video Boat Review Transcript

I'm here on one of Minnesota's 10,000 lakes, testing the Crestliner 1650 Fish Hawk, a compact all-welded fishing rig that can do it all when it comes to angling. Except maybe put the worm on your hook.

Expert Interview

Steve, all the Fish Hawk models this year have this new console. What did you guys have in mind when you designed the shape of this?

Steve Magers, Crestliner Boats: What we were trying to achieve was plenty of room for electronics. We still have room for the smaller electronics on the side. But what we added was a platform to mount a round mount, which would bring your larger electronics right in front of the driver.

Now the material here has a nice texture, but it also seems really tough. What is this?

Steve: This is a rotational molded plastic, that is UV stable and extremely durable. You have no issues with cracking like other materials, such as TPO, ABS, or even fiberglass.

Features

So the 1650 Fish Hawk we're testing today is equipped with a number of options that really expand its versatility. One of those is this aft bench seat. Now it's a little narrow, but it beats sitting on the fishing deck. And it's very easy to flip it down and it makes the fishing deck even larger.

Crestliner offsets the base for the rear pedestal seat to the side like this, which looks a little strange. But it allows them to make the door for the livewell, which is 20 gallons, a little bigger. The weight of the water in the livewell will offset the weight of the fisherman when he's sitting in the seat.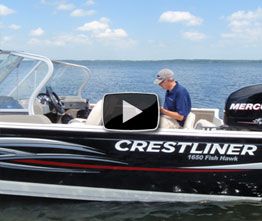 Now this boat comes standard with a single side console, but our test boat's been upgraded to this dual console set up with a glass walk through windshield. It's a really high windshield that gives great wind protection, to keep your family out of the breeze and really extend your season. If it's hot out like it was here the other day, I found by opening this up, I got plenty of breeze.

On the console, we also have this Lowrance X4 fishfinder, which is standard equipment on this boat, along with a Minn Kota trolling motor.

Crestliner's equipped all its new Fish Hawk models with this nice molded steering wheel, for an automotive feel.

The 1650 has quite a bit of storage for a boat this size. Start with this big rod locker. It has a gas strut, and nice reinforcement on the lid to keep it from flexing. And we can see here this spray on material that Crestliner calls "crest-liner" (get it?) puts in all their storage compartments. It's like a spray-on pickup truck bedliner. Very durable.

Here in the bow we've got two large storage lockers. Now this one's not as deep as the one on that side because there's a drawer under the console, facing the seat.

Peformance

Crestliner offers this boat with a number of Mercury outboard options, from 50-90 horsepower. We tested with this Optimax 90, which is plenty of power for this boat. In fact I found this boat handled best when we didn't overtrim the motor. The ride is very comfortable for a boat this size. Top speed is good at 39.5 mph, and the fuel economy was great, at 8.3 mpg at 23 mph.

Wrap Up

Now this Fish Hawk has some options that may or may not appeal to everybody. But on the other hand, think of all the different ways you could put it together. At its core, this is a fishing boat that's going to be a great value.

—Charles Plueddeman