Back to search results
Crestliner 1850 Super Hawk: Family Fishing and Fun
Longer and larger than its predecessor, the aluminum 1850 Super Hawk has more room, more features, and more available power, and versatility is its calling card.
I usually cringe at the idea of a "fish and ski" model because the result is often a boat that's one big compromise. But with this new Super Hawk model, Crestliner successfully retains all of its significant aluminum-hull fishing DNA while adding some key available features that make it acceptable for family day-boating; a ski pylon, bow seating and cushions, and an aft bench seat top the list. Bolt enough power on the transom and this Super Hawk will even run like a quick sport-boat.





The 1850 Super Hawk is a new model for 2013 that replaces the 1800 Super Hawk in the Crestliner portfolio and is a big step up from their 1750 Fish Hawk. It retains the previous model's running surface and 17 degree deadrise, but is stretched seven inches in length to 18 feet 9 inches. The result is a little more elbow room all around in the cockpit, and a bump in max power rating from 175 horsepower to 200 horsepower. Base price is $29,776 with a Mercury 115 OptiMax two-stroke outboard and a Shorland'r trailer. We tested the boat with a Mercury 175 Verado on the transom, which bumps the price up to $37,763, but squirts this rig out of the hole in a heartbeat and keeps pulling all the way to 51 mph. Give her some trim and the Super Hawk really airs out at speed, with this much power. I was running with just little ol' me on board and no gear, and thought this was plenty of performance. It would probably be just right with more people and stuff along. I can't imagine "needing" 200 horsepower on the transom.

The base boat comes with an aft casting platform with two fishing seat bases and a 22-gallon live well. Those side-by-side positions for the fishing seats are great if you're teaching kids to be anglers, because it puts the youngster close to the water and you right at hand. To enhance the versatility of the aft platform, there are two options. One adds a pair of jump seats ($564) over the stowage compartments in the platform. You can still lift the seat bottom to reach the stowage, and fold the seat backs down to have the full platform area. Or, you can select the Conversion Stern Bench option (also $564), which is a three-wide seat when it's up, and expands the fishing platform when it's folded flat. Both of these seat options are good choices for family boating. A Sport Package ($1,833) includes the bench seat, tilt steering, a small swim platform with boarding ladder, a premium Clarion stereo with four speakers, and swaps two of the fishing seats for reclining helm seats.



The bow area comes set up with two seat pads and backrests that flank a foot well. The port seat cushion flips over to cover the foot well and create a full-size casting platform. You can add optional padding to cover the rest of the bow ($386), and side bolster cushions ($351), and have a pretty nice sun lounge. Those cushions are sized to stow in the center ski locker.



It was a crisp day when I tested the 1850 Super Hawk, a good chance to test the protection offered by the tall wrap-around windshield. It works very well, and will keep early season anglers and pony-tailed family members out of the wind blast. The port and starboard consoles are topped with durable, molded caps made of a material designed to withstand UV and temperature extremes. A nice touch at the helm is a pair of input jacks for an MP3 player, plus a little padded cubby designed to hold your digital device.

Anglers and families have reason to drop anchor on occasion, and a new optional anchor roller and rode locker eases that operation. This set-up is made possible by the design of a gunwale-mount platform for a trolling motor, because there would otherwise not be room for both the electric motor and the anchor roller. There are holders and tubes for three 7-foot 6-inch rods in the port gunwale. You can add an optional 6-tube system ($241) to the ski locker. A portable 36-quart cooler stows below the starboard console, unless you add a trolling motor, in which case that space is devoted to batteries. The ski pylon ($457) fits into a socket in the aft platform, and will work a lot better than a ski tow bar that wraps over the outboard, if only because you can take it down and stow it in about 30 seconds.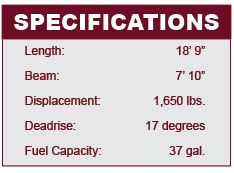 Still looking for that Crestliner fishing DNA? How about a toe-rail at the gunwale base, to better brace an angler hauling in a lunker? Or the wide gunwales, that are now designed to mount downriggers without drilling? There's even an access panel in the splashwell that can be removed to accommodate a kicker motor. The options list for the Super Hawk includes most of items offered on more "fishy" Crestliner models, including a washdown system, vinyl flooring, an extra livewell for the bow, battery chargers, fishing electronics, and fishing seat choices.

So…fish and ski? Ski and fish? It's really up to you and the Crestliner 1850 Super Hawk, a boat that can just about do it all, can be optioned to fit your notion of how to best have fun on the water.

For more information, watch our Crestliner 1850 Super Hawk Video Boat Review, or visit Crestliner.

- Charles Plueddeman