Back to search results
Cruisers Sport Series 208 Boat Test Notes
Details from the smallest boat built by Cruisers Yachts.
Watch the Cruisers Sport Series 208 Video Boat Review

Overview: The smallest bow rider in the Cruisers Sport Series.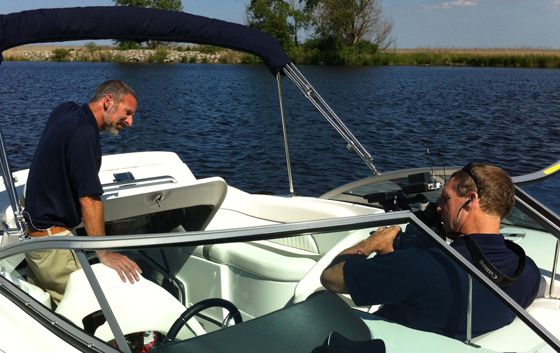 Concept




Build a small bow rider with the same attention to detail and equipment as Cruisers uses on their larger, far more expensive yachts.



Construction



Hatches and doors are RTM molded, to maximize strength, minimize weight, and provide a finished surface inside and out.



Specifications
Length
20'10"
Beam
7'6"
Max Draft
2'4"
Deadrise
19 degrees
Displacement
3,100 lbs
Fuel capacity
35 gal.



Aluminum plates beef up the engine mounting system and back up all deck hardware.




Snap-in woven mat replaces carpet with a stronger, easier to clean surface that's also easy on the feet.



Performance & Handling



With a 260-hp Mercury stern drive, we blasted past 50-mph.




Semi-steps in the hullsides help the boat dig in and grip in hair-pin turns.




Better than 3.5 MPG at cruise.




Handles a chop well, and there's little pounding or vibration.



Performance Data
Test conditions: 1 foot chop, winds 10 - 15 knots, 1 POB
RPM
MPH
GPH
MPG
1000
4.5
1.2
3.8
2000
7.8
3.6
2.2
3000
26.5
6.4
4.1
4000
39.0
11.0
3.5
5000
49.0
18.8
2.6
5350
52.6
21.8
2.4
Power
260-hp Mercury 5.0L stern drive, 21" Alpha One Propset
Unique Features



There's a back-up pump switch in the bilge and a auto fire extinguisher in the engine-box; both are unheard-of in production boats of this size.




Swim platform ladder is canted off to the side to keep swimmers safely away from the props.