See more articles
2014 Cruisers Sport Series 208: Video Boat Review
Cruisers brings many of their yacht details to the smallest bowrider in their fleet.





Read Lenny's detailed Cruisers Sport Series 208 Boat Test Notes

You know what? Bigger is not always better. I've been spending the day on the Cruisers Sport Series 208. This is the smallest boat Cruisers makes, but it's big on fun. Come on for a ride.

Cruising speed on the 208 is just a hair under 40 mph. And check this out: top end? 52.6 mph.

Now here is where small can be a big advantage. We got those performance numbers with this little Merc 5.0. With a powerplant this small, we're getting 3.5 mpg at cruise. That's pretty darn good.

Now as you've already seen, that powerplant provides plenty of juice for getting out of the hold fast. That means you can pull water skiers, wakeboarders, whatever no problem. And if that's something your kids are into, you'll appreciate the stowage compartment down here. It's nice and deep, and it goes way forward under the deck. Now there's one little room for improvement here: I wish there was a rubber bumper so the hatch didn't hit the fiberglass, or maybe even a gas assist strut.

There's more stowage underneath the bow cushions, and check out how they hinged it. I really l like that so your cushions don't go flying away when you hit a wave. Plus there's extra stowage up here in the console.

Hey, if you're gonna be out on the water having fun all day, you gotta have somewhere to keep those drinks chilly, right? Well there's a cooler under here which is great, but what I like even more is that Cruisers put this latch here. So you just lift up the top, it stays where it is, and you can get into the cooler and get your drinks. When you're done, boom.

Every bowrider has to have a nice big sunpad, right? Check this out: Ahhhh.

The kids are ready for a dip? Here's something you'll want to know about. The swim ladder goes off to the side, not the back, of the swim platform. That means as the kids get in and out of the boat they're kept away from the propeller and the drive unit.

Now small does not have to mean uncomfortable. On a lot of little boats you'll find seats that are tough on your back and tough to even sit in. But Cruisers puts in these nice buckets with a flip up bolster, so you can even adjust your height.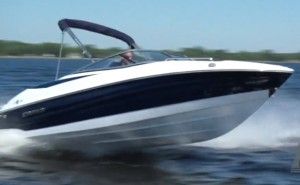 Now whenever I'm reviewing a boat I like to make sure I check out the wiring. Come on down here under the dash. All the wiring is well supported, and all the connections have heat shrink tubing over them.

All right, we're looking at a partially built 208, and I just saw something that stopped me in my tracks... I didn't even notice it when we were doing the review on the boat. Jon, what is THAT?

Jon Viestenz, Cruisers Yachts Product Manager: This is your Halon system for your engine compartment, which is standard on all the Sport Series.

Lenny: On a 20 footer?

Jon: Absolutely yeah. It's something you don't see in most 20 footers in this segment. This is another indication of bringing the process and procedures and standards of our yachts down into the trailerable boats.

Lenny: I don't ever recall seeing a Halon system on a 20 footer.

Jon: Yup, this is standard.

You know what? I don't care what any yachtsman might say. Bigger is not necessarily better. And after reviewing this 208 Sport Series, I've had a lot of fun. See you next time. Woo hoo!