See more articles
Cruisers Sport Series 258 Boat Test Notes
This sporty bowrider can be turned into a wakeboarding boat with plenty of pep, and the deep cockpits will keep the family safe.
Watch the video: Cruisers Sport Series 258: All New Model Line from Cruisers Yachts





Concept:

-Create a bowrider that's comfortable for the entire family and offers sporty performance.

Construction:

-Hatches and doors are RTM molded, to maximize strength, minimize weight, and provide a finished surface inside and out.

-Coaming bolsters line the bow cockpit's high sides.

-Wakeboarding tower is overbuilt – you can do chin-ups on it, and it won't sway or move one bit.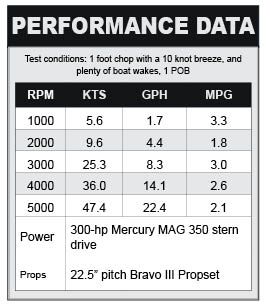 Performance:

-In a quick four seconds, it's out of the hole.

-Hull vent gives partial advantages of a step, without the disadvantages.



Handling:

-Grips the water in hard turns; cranking the wheel hard-over at WOT is not a problem.

-22-degree deadrise hull handles a chop well, and there's little pounding or vibration.



Unique features:


-Aft seat transforms from forward-facing, to aft-facing, to a flat sunpad.

-Wakeboard tower is among the strongest you'll find.

-Monster stereo ensures the rider can hear the tunes.



For more information, visit Cruisers Yachts.