See more articles
Cruisers Sport Series 258: Bowrider with Bling
This new bowrider from Cruisers Yachts is set up for full-throttle excitement, and wakeboarding adventures.
Watch our Cruisers Sport Series 258 Video Boat Review

I love it when I nail the throttle on a boat and the power surge is potent enough to send my head snapping back and the wind rushing through my hair, as was the case when we were filming a video boat review of the Cruisers Sport Series 258. VA-VROOM, baby! This boat shoots out of the hole and zips right up to 47.4-mph. And the boat we tested was fully loaded and rigged with a wakeboarding tower, which certainly cuts top-end by a few MPH. Run it bare and light, and this will be a 50-MPH boat.





Fast acceleration and a peppy top-end were not, of course, a shocking surprise. Many boats of this nature offer similar performance when they're rigged with a 300-hp Mercury MAG 350 stern drive. What was completely unexpected, however, was how the boat shredded hair-pin turns like a highly caffeinated teen on a skateboard. Whip the wheel around, and the hull digs in and responds in the blink of an eye. Crank it back the other way and the boat changes direction unbelievably fast.

The secret? Take a peek at the hullsides when a 258 goes zooming past... or in the photo above. You'll see what looks like a step carved into the hull, but a closer inspection will show it's a short vent with a small fin molded in. The vent helps introduce a bit of air under the hull and boosts speed marginally, but the fin is what really tricks out the hull; it grabs in as you lay the boat into a turn, increasing the effect of your commands from the helm.

Another noteworthy feature of the hull bottom is its transom deadrise. At 22-degrees, this hull is more akin to an offshore fishboat than the average bowrider. As a result, it easily cleaves through a chop. When I ran the 258 we were in Palm Beach Lake, and the numerous boat wakes were more of a challenge than any wind-driven chop. Did I back off on the throttle when a 60' sportfish cruised past, throwing up a three-foot launch-ramp? Heck no—and after going airborne for a fraction of a second the boat landed with a sturdy thump, free of the vibrations and rattles that plague many lesser boats. Credit for that should go to Cruisers' construction techniques, as well as that sharp V-hull.

Want an example of how well this boat is built? The most obvious one is the wakeboard tower. It's as solid as any you'll find, period. To prove the point I did a bunch of chin-ups from one side. It didn't sway, lean, or move one iota.



The same can be said for virtually every piece and part of the boat. Hinges and hardware are backed by aluminum plates laminated into the fiberglass. Hatches and doors are RTM molded to ensure maximum strength with minimum weight. And balsa coring is present in places you'd never expect it, like the bottom of the in-deck ski locker, to maintain stiffness and strength.

But yes, I did say "virtually". The one part I found which I don't think will last is the helm console access door, which felt flimsy and destined to break. When I pointed this out to the Cruisers rep he said they weren't thrilled with it either; there was some talk back at the plant about replacing it. If this were going to be my boat, I'd insist on it.

As far as the boat's layout goes, it'll serve equally well for watersports or plain old cruising around bowrider-style. There are three built-in cooler compartments, including one on the swim platform so you can grab a cold drink without climbing back onboard. Ditto for changing the tunes, since there's also a waterproof stereo remote back there. Larger quantities of beverages and food will go into the removable 48-quart cooler under the lounge. It's integrated under the seat, which has a strut that holds the seat up and out of the way for easy access.

An unusual perk for a boat of this size is the 12-gallon pressure water system, which feeds a sink and a transom shower. Less unusual is the passenger's side head compartment, which has become something of a must-have on mid-sized runabouts these days. It's plenty roomy, but the door is large enough to smack the driver's side console and there's no way to secure it in the open position; a strap and a rubber bumper should be added.



Unlike the bows in some bowriders, this one's actually comfortable. The sides come up notably higher than usual, are padded with thick coaming bolsters, and fold-down arm rests are built into the seat-backs on both sides. The aft cockpit is also ringed in comfy seating; this boat is rated to carry up to 13 people, and even though that may be a bit much IMHO, there's at least enough room for 10 people to sit down in comfort on the 258.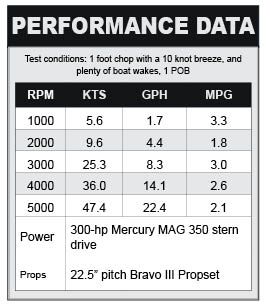 Thanks to the high sides, copious seating, and enclosed head, this boat will obviously serve as a good choice for family boaters. And Cruisers has also made a few noteworthy nods to safety, which will make mom and dad feel more confident when they bring the kids aboard. The first can be found in the engine compartment, where Cruisers mounts an automatic fire extinguisher. On most boats of this size you'll see a port in the enginebox, where you plug in your portable extinguisher, pull the trigger, and pray. The built-in system is a lot better. Also take note of the boarding ladders on the 258. There's one in the bow and another on the aft swim platform, which is angled out to the side. Either way, you're kept far away from the props while climbing aboard.


Once you're back inside and you want to shift modes from watersports to sun-worship, the aft lounge is going to come in handy. It can be affixed in three positions: forward-facing, aft-facing, and flat. When flat it's large enough to serve as a full-sized sunlounge, and I had no trouble stretching my 5'11" frame all the way out. Good thing—I had so much fun firewalling the throttle on this boat that I couldn't resist the temptation to do it again and again, and I snapped my head back and forth quite a few times. By the time we were done filming that part of the video review, I was more than ready to give that sunlounge an extended test. How much you want to bet that you won't be able to resist such a temptation, yourself?

Other Choices: Interested boaters will also want to check out models like the Formula 26 Bowrider, the Regal 2500 FasTrac, the Caravelle 267 Bowrider, and the Stingray 250 LR.

For more information, watch our Video Boat Review or visit Cruisers Yachts.

-Lenny Rudow