Back to search results
2013 Cruisers Sport Series 278: Video Boat Review
The all new line of sportboats from Cruisers includes this 278.




Read Lenny's Cruisers Sport Series 278 Boat Test Notes

The 278 is one big beefy new bowrider. And you might be surprised at who brings it to you. Cruisers Yachts!  This is one of their new sportboat series. And we're here in sunny Palm Beach to review one.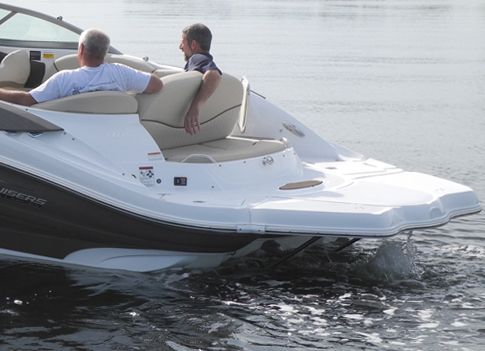 Right here at the helm, Cruisers laid this out nicely. First off, there's a beautiful custom wheel. You have a nice flip up bolster seat, and all Faria gauges at the dash.

One of the key features is a comfortable seating arrangement and sun lounge. This is pretty nifty. Just flip two pieces and the seat converts to an aft facing seat, or it goes all the way back and lays flat to be a nice big sun lounge.

Another key feature is access to the water. The 278 has a nice big swim platform, and back here is a folding swim ladder. And there's also a nice little drink cooler.

The hatches are light and fully finished inside and out, because they are resin-transfer molded hatches.

Every boat like this has a cooler under the seat, but this one you can grab the seat and lift it up and it stays in position, so you can access your drinks.

Power steering is a standard feature on all the Cruisers sport boat models.

I love that the 278 gets you a fully enclosed head compartment, but I wish that Cruisers had added some type of stopper so fiberglass didn't hit fiberglass.

This is my favorite part of boat testing! And on this boat, I even get an armrest.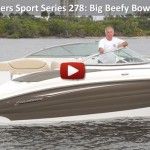 You'd expect stowage underneath the bow cushions. Here's what you wouldn't expect: a hatch underneath, and a fully finished linered interior. While you've got this hatch open, check out the attention to detail: the hinge bolts are fully recessed so you can't hurt yourself.

There is a second swim ladder off the bow, in the anchor locker.

There is plenty of stowage for wakeboards and other toys in the deck.

Why did Cruisers come out with a sport boat line?

Gene Gooding, Cruisers Sales: For the past five years we haven't had anything under 31 feet. Today a customer can become part of the Cruisers family starting at 23 feet, all the way up to 54 feet.

Lenny: We don't have your usual snap in carpet here, do we?

Gene: No. This new product will not absorb water. And as soon as the rain stops and the sun comes out, it dries.

Lenny: And it's nice and grippy. I like the way it feels underfoot.

With 300 HP driving this boat, we ran in the mid-30s while getting around 3 mpg. Top end busted 50 mph.

This is a well-built bow rider brought to you by a company you know, Cruisers Yachts. If you've been wondering when they would come out with a line of sportboats, the wait is over.

For more information, visit Cruisers Yachts.