See more articles
2013 Cruisers Sport Series 278 Boat Test Notes
Detailed test notes from reviewing the 27 foot bowrider from Cruisers Yachts.
Watch the video: Cruisers Sport Series 278: Big Beefy New Bowrider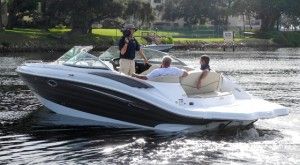 Overview: The Cruisers Sport Series 278 is a sporty bowrider with plenty of pep, a head in the console, and a huge swim platform.

Concept:
-Create a bowrider that maximizes interior space, without sacrificing performance.


Construction:
-Hatches and doors are RTM molded, to maximize strength, minimize weight, and provide a finished surface inside and out.
-Stout aluminum plates beef up the engine mounting system, to ensure perfect alignment for the long run.
-Seat cushions are hinged for easy access to stowage compartments.

Performance:
-It's fast out of the hole, and top-end breaks 50-mph.
-Hull vent gives partial advantages of a step, without the disadvantages.

Handling:
-Grips the water in hard turns; cranking the wheel hard-over at WOT is not a problem—but it is fun!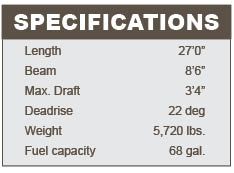 -22-degree deadrise hull handles a chop well, and there's little pounding or vibration.

Unique features:
-Aft seat transforms from forward-facing, to aft-facing, to a flat sunpad.
-Cockpit table fits mounts in the bow and at the stern, and stows in the driver's side console.

For more information, visit Cruisers Yachts.