Back to search results
Cruisers Sport Series 298 Boat Test Notes
The 298 is a brawny bowrider with plenty of pep and a roomy head compartment in the console.
Watch the video: Cruisers Sport Series 298: King of the Bowriders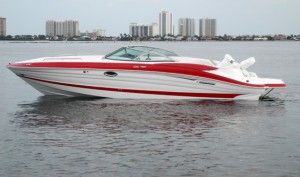 Concept:

-Create a bowrider with maximum space, without sacrificing performance.



Construction:

-Hatches and doors are RTM molded, to maximize strength, minimize weight, and provide a finished surface inside and out.

-Stout aluminum plates beef up the engine mounting system, to ensure perfect alignment for the long run.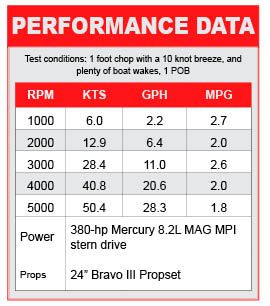 Performance:

-It's sporty, all right – cruising speed is around 40-mph and top-end busts 50.

-Hull vent gives partial advantages of a step, without the disadvantages.



Handling:

-Grips the water in hard turns; cranking the wheel hard-over at WOT is not a problem—but it is fun!

-21-degree deadrise hull handles a chop well, and there's little pounding or vibration.




Unique features:

-Aft seat transforms from forward-facing, to aft-facing, to a flat sunpad.

-Fold-out door allows you to completely seal off the bow cockpit from the helm and stern cockpit.

For more information, visit Cruisers Yachts.