See more articles
Customize It: Four Winns H200SS
Sport and performance combine with utility and watersports-friendly features.
I'll always remember the first time I tested a Four Winns boat with the Stable Vee hull design. Four Winns' marketing director had me out on Lake Cadillac near the company's Michigan headquarters and we were barreling across the lake at a good clip, probably 40 mph.





"OK, now trim it down and cut the wheel hard," he said.

"You're kidding me with this, right?" Such maneuvers are often a good way to get wet or injured. Or both.

"No, I'm not kidding.  Go for it."

So I made sure the lanyard was attached to my belt loop, grimaced and did exactly what he asked me to do. And the boat did exactly what I asked it to do.

It's always nice when a product performs as advertised, and having experienced my share of products that don't live up to the hype, I can tell you that Stable Vee works. Really.

The hull holds utility and design patents, and near as I can tell, it has three basic elements. The aft section of the boat is as wide as possible as far forward as possible, as is the deadrise angle, to enhance lateral stability. And for cornering and coming on plane, the after pods provide "grip." Other boating writers might tell you it handles like a sports car, but I've never been a proponent of comparing cars with boats—because aside from the engines, they couldn't be more dissimilar. So I won't employ such simile.

What I will say is that Four Winns boats with Stable Vee designs will turn as sharply and crisply as your nerve and passengers will allow, which is handy if you ever have to maneuver around some witless clown on a personal watercraft.

Four Winns' H200SS has the vaunted Stable Vee hull, but it also accomplishes another nifty little trick I like. It's a boat with racy looks, a healthy dose of giddy-up and hull graphics in four color choices, red and black, blue, orange and black. They're just racy enough to get you noticed, but not so outlandish that people will suspect you pay close attention to commercials for ED medications.

"We heard from our dealers about customers who were looking to customize our current products for a more sporty performance look and feel," said Rick Fulmer, spokesman for Four Winns.  "Unique features that were brought to this boat included a low-profile stainless windshield, custom color-matched dash and unique upholstery patterns, thru-hull exhaust, and sport SS graphics.  We've had great success with this series and have truly confirmed that this is a separate buying customer within the market place.  We now offer this type of option on all of the H Series segment which consists of eight different models ranging from 18 to 31 feet."

Power choices for the H200SS range from the mild 220-horsepower 4.3-liter  MerCruiser V-6 to 300-horse 5.7-liter V-8s from either Merc or Volvo Penta. Naturally, I'd recommend an eight-cylinder, or in two boating seasons you'll wish you had bought one. Spending a few thousand dollars on a V-8 now will save you from having to spend several thousand on a new boat later. It happens all the time.

If you can, sneak in the Quick & Quiet switchable exhaust system too. When your family's on board, you can route the exhaust through the prop. When it's just the guys, open it up for through-hull performance and sound.



In terms of family utility, you can outfit the H200SS with a towing tower, a $2,962 option. What's more, the Stable Vee hull lets you stay on plane at lower speeds so you really can use the boat for wakeboarding. If you want the "ultimate" tower package, which includes board racks, four speakers, lights, an observer mirror and a swim platform mat, it'll run you $6,154. Your kids will want it, but it doesn't seem like a lot of value for the price. You can opt for a pair of tower speakers for $877, buy a ski mirror from West Marine and call it good.

With no other options than the tower and the 300-horse Merc V-8, you're looking at $52,808, which includes freight charges and a single-axle trailer with brakes. Four Winns makes its own trailers so they really fit the boat well. The bunk supports align with the stringers inside the hull, which is a huge plus.

For trim, you get upholstery that matches the exterior graphics, snap-in carpeting, a low-slung windshield with a magnetic catch, docking lights, iPod and MP3 compatible sound system and a locking glove box—all standard.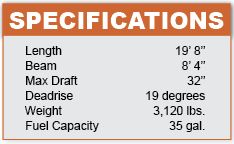 With so many stepped hulls on today's models, it's nice to see that Four Winns left well enough alone and retained the Stable Vee design. It works great for spirited driving and maneuvering and it also adds a measure of safety.

Editor's Note: Brett Becker is a freelance writer based in Ventura, CA. He covers the marine, automotive and racing industries for various print and Web titles. For more information on the H200SS, visit the Four Winns website.