See more articles
Deck-Friendly Hard Dinghies
How to squirrel away a stowage "hard" dinghy on a blue water boat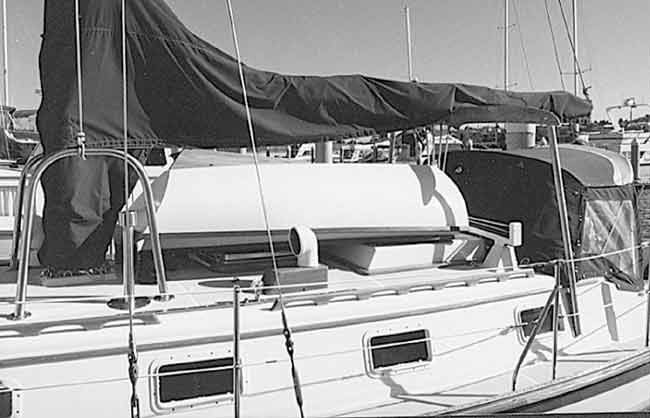 For every outspoken aficionado of the inflatable dinghy, there's an equally eloquent spokesperson for the hard dinghy. The former are easily folded and stowed, are lightweight, get up on plane quickly with a small- to mid-sized outboard motor, and are soft-sided, presenting no threat to pristine topsides and deck brightwork. However, well-designed hard dinghies are more efficient rowing vehicles than inflatables, especially upwind in a chop, are dryer both inside and out, are generally easier to get into and out of, and are often less expensive. All generalizations, but you'll hear these arguments and more (e.g., "Yah, but can the hard dinghy double as a life raft?") at any seaside pub or beach-fire gathering you turn up at.

Rightly or wrongly, many passagemakers return from their first sorties into the great blue unknown wanting more from their dinghies than their inflatables were able to provide. They turn to solid dinghies, which present their own barrage of compromises. One of these is stowability. Sure, they're rigid, dry and row well, runs the plaintive cry, but how and where do we stow them?

We receive a lot of dinghy inquiries each month. During our research, five builders of eminently stowable "hard" dinghies for offshore boats have caught our eye. Four of these companies — Britannia Boats Ltd, Porta-Bote International, Sam L. Morse Co., and TNE Marine build to fairly standard dinghy designs; the fifth, Wilderness Systems, makes kayaks.

Britannia Boats Ltd.

Britannia builds 6-foot-8-inch and 7-foot-10-inch folding dinghies in England and imports them to their Annapolis, Maryland, sales office. Last July, one of our ad staff was anchored in Nantucket, off the coast of Massachusetts, and watched a cruising J/24 sail into the harbor with a long, narrow and shallow brightwork "box" on the foredeck. In minutes, the "box" metamorphosed into a pretty little pram-shaped dinghy, which was put over the side. A sail rig was installed, and an expedition around the anchorage initiated. This was the Britannia 6-foot-8-inch folding dinghy, little sister to the 7-foot-10-inch version.

Both models are designed to be easily assembled by one person. Steps for assembly are: (1) lay "boat" on keel, (2) fold out bottom panels, (3) prop open side panels, (4) spread sides apart with hinged center thwart and pop amidships into shape, (5) lock back the hinged transom with the aft thwart, (6) slide bow panel into place between permanent "knee" and bow fabric and lock into position with forward thwart. This takes literally minutes. All pieces are locked in place by strong, stainless-steel, over-center latches. More eloquent than words is a video that Britannia offers showing assembly and performance under oars, motor and sail.

The major advantages of the 7-foot-10-inch model are more legroom between thwarts and a finer entry due to greater length with no increase in beam, which is 4 feet 2 inches for both models. The 6-foot-8-inch Britannia weighs 56 pounds, and the larger is only four pounds more. The smaller version folds into a unit 7 feet 1 inch long, 1 foot 8 inches wide and 4 inches deep; the larger, 8 feet 4 inches by 1 foot 8 inhces by 4 inches. On the J/24, the folded dinghy was stowed flat in its optional bag on the deck just aft of the bow pulpit, but they also can be stowed out of the way like windsurfers along between lifeline stanchions.

Britannia folding dinghies have been manufactured in England since 1978 and imported to the U.S. since 1984. Materials are lightweight mahogany marine plywood and PVC-coated, UV-resistant, nylon/polyester fabric. While the standard 6-foot-8-inch and 7-foot-10-inch boats ($1,305/$1,450, varnished and ready to launch) come finished bright, to save money and create a custom color scheme with either paint or varnish, they can be ordered unfinished ($1,210/$1,070). They also can be ordered in kit form ($885/$990). The few fittings are stainless. Rigidity is essential to minimize stress between hinged materials, to effectively eliminate movement between adjacent panels, and to reduce wear on the fabric. This rigidity enhances rowing and sailing performance. Both boats are rated at two-person capacity.

A sail rig ($690) is optional for both boats. It consists of a "tanbarked" 39-square-foot sliding gunter rig, with a 13-square-foot jib ($196) available for the 7-foot-8-inch model; spars, mast step, running and standing rigging, daggerboard and lifting rudder. The gunter rig is chosen so that no spar will be longer than the boat and, thus, can be stored with it. Outboards up to two horsepower can be used efficiently so long as a reinforcing bracket ($55) is employed. Oars, spray dodger, rubrail extrusion, buoyancy bags and carrying bag also are available as options.

Porta-Bote International

You've seen it lashed vertically to the lifeline on a cruising boat, but from a distance you might have thought it was a sailboard. But in a matter of minutes, that "sailboard" was transformed into a legitimate sharp-bowed dinghy with trihedral bottom and chines for stability and tracking.

Three lengths are offered: 8 feet 6 inches, 10 feet 8 inches and 12 feet 6 inches, all of which fold into 4-inch-thick sailboat shaped wedges that are easily stowed on deck without consuming much usable space. The 8-footer has a 56-inch beam and weighs 47 pounds less seats and transom. The 10-footer has a 60-inch beam and weighs 58 pounds. The 12-footer also has a 60-inch beam, but it weighs 68 pounds. The 8-footer has two seats, while the 10- and 12-footers have three. Weight capacity for the three, including passengers, motor and gear: 8-footer — 445 pounds, 10-footer — 585 pounds, 12-footer — 670 pounds. Maximum engine weights are: eight — 35 pounds, 10 — 44 pounds, and 12 — 54 pounds.

The Porta-Bote is assembled by follow these simple steps: (1) Open the folded boat, (2) insert center seat to keep boat open, (3) step into boat and insert stern seat, (4) insert bow seat, (5) install transom, (6) lock together with wingnut and bolt assembly. In minutes, you're on your way to the dinghy dock for errands. Stability is gained not only from the hull's trihedral form, it also is derived from the tendency of the flexible skin to flex inward at every wave strike, absorbing and dispersing the energy of the wave.

Aside from the Porta-Bote's design, the key to its success over the past quarter-century has been the materials from which it is crafted. Fabric and hinges that connect the four sections (two bottom and two side sections) are made of NASA-developed UV Buffered Copolymer Polypropylene, the same resin Sears uses today for the cases of its Diehard batteries. Obviously overbuilt, the hinges reportedly can withstand stress of some 90,000 pounds per square inch. They are guaranteed for 10 years and many are going strong after 25 years of hard use.

Twenty-five-year-old hulls, too, have held up well, in part due to an ultraviolet filter and antioxidant conceived to minimize oxidation from the sun. The skins are a quarter-inch thick, and are claimed to be nearly impervious to sharp rocks and coral. The material is truly maintenance-free, requiring no painting and little cleaning. All metal fittings are either stainless steel, anodized aluminum or solid brass.

Suggested retail prices for the 8-, 10- and 12-footers, respectively, are: $1,275, $1,285 and $1,295. Three colors are offered: Pacific Pearl, Aluminum and Olive Drab. Sail rigs are available.

Sam L. Morse Co.



The Cherub, a 7-foot-4-inch fiberglass lapstrake rowing and sailing dinghy, was born of Sam L. Morse president Roger Olson's 50,000-mile, 13-year voyage with a Bristol Channel Cutter named Xyphias during the 1980s and 1990s. After going through two inflatables and three hard dinghies during that time, he took matters in his own hands and designed what he believes to be "the perfect design for a small tender." Cherub can fit on the decks of the 28-foot Bristol Channel Cutters and 22-foot Falmouth Cutters that Sam L. Morse also builds. Our thinking is that if they stow easily on those postage-stamp decks, then they'll plainly excel on the working platforms of much larger boats.

We consider the Cherub to be stowable because of its extremely small size and light weight of 85 pounds (without compromising safety) and because its thwarts are removable so it can be stowed on top of a hatch or a Dorade box. Thwarts can be stowed in a cockpit locker or lazarette. This convertibility comes in useful when two people are in the dinghy. The center thwart can be removed to open up a "cargo hold" amidships for provisions.

Cherub is (dare we say it?) adorable, but don't get her strakes up by letting her know what you really think. With her 4-foot beam (less than 2:1 ratio) she's all workboat with plenty of cargo carrying ability. With beam well aft, cargo can be carried at the widest part of the dinghy. Safe carrying capacity is set as 425 pounds; maximum person carrying capacity, 397 pounds; maximum number or persons, three; maximum engine power, three horsepower.

The Cherub boasts flotation of 2/15 person capacity and 25 percent of load capacity. Flotation is provided by the closed-cell urethane foam bonded to the plywood floor and by the wide wale-strake rubrail. Her molded lapstrake construction creates a stronger hull that also will deflect more chop when moving upwind. All exposed wood is teak. Seats are gel-coated plywood. Standard color scheme is white with brown urethane wale strake.

The list price of the Cherub is $1,795. The sailing package ($895) includes fiberglass mast, wood boom, tiller, rudder and leeboard assembly, Dacron sail (with one reef!), Dacron running rigging, and blocks are cleats. Oars and tanbarked sails are among other options.

TNE Marine



TNE's Rainbow 12 and Rainbow 13 are true "nesting dinghies." Their bow and stern sections are separate floating entities that can be locked together when assembled; when stowed, the bow section "nests" inside the stern section. This nesting capability enables the 12-foot Rainbow to nest in 6 feet 10 inches of deck space, and the Rainbow 13 (actually, 13 feet 6 inches) to nest in 7 feet 6 inches.

TNE's first nesting dinghy was the Rainbow 12, a fiberglass pram-bowed rowboat with dovetailing bulkheads in bow and stern sections. The two sections can be quickly and securely locked with a hook-and-latch fastening system. The Rainbow 12 has a capacity of four passengers and a maximum outboard horsepower of 15. It boasts what TNE calls a "cruiser gunwale" with a white-rubber rubrail. For stability and cargo-carrying ability, the pram design cannot be beat, and dinghies of this configuration, both nesting and non-nesting, homemade and store-bought, are seen in anchorages throughout the world, ferrying kids and dogs, groceries, diving gear, and the like with aplomb. TNE's price for the Rainbow 12: $2,895.

The Rainbow 13 was TNE's response to an plea from voyagers for a tender that would row and sail efficiently, carry a heavy load, and consume less than eight feet on deck. After four years of research, development and exhaustive testing, the 13 was put on the market.

Not surprisingly, its roots are in the last century when a boat that rowed and ail well in a variety of conditions brought money to the till and the waterman safely back home. It is modeled after the fast racing dories built by William Chamberlain in Marblehead, Mass. at the turn of this century. As such, not only is it a stylish and rakish looking vessel, rowed or under sail, with its round bilges and aquadynamic lines it slips through the water with very little effort, a desirable trait for the workboat of a voyaging vessel.

The Rainbow 13 is built of bi-axial fiberglass for strength and light weight, and it has balsa core in floor and thwarts, for stiffness and light weight. It has a 53-inch beam and a 5-inch draft, and weighs in at 210 pounds (100 pounds for the bow section; 110 for the stern). Flotation satisfies U.S. Coast Guard requirements.

Bulkheads for bow and stern sections dovetail to absorb torque loads created by the freestanding sailing rig, should one be installed. Its center (actually aft-of-center) seat is movable to allow the passengers to trim ship according to weight and number. The stainless-steel "bow-cruncher plate" will protect the bottom over years of beaching and launching.

Wilderness Systems

We mention kayaks as an option, and perhaps a second dinghy for larger cruising boats. Certainly, they cannot carry a lot of cargo, but with their narrow beam and light weight, they are easily stowed aboard, and they offer a lot of intangibles an inflatable or hard dinghy cannot. Legendary voyager and multihull designer Jim Brown reminds us of how non-intrusive kayaks are when visiting remote lands by voyaging boat. "They are part of the scene; as such, they are non-threatening," he says. "If you pull up in a large motorized vehicle or jet ski, you're a gringo yachtie. But if you slide in with a kayak, you're this strange and wonderful person from another culture who sparks a lot of curiosity among the residents."

In addition to an inflatable, Jim carries a Wilderness Systems kayak — a 9-foot-8-inch by 30-inch, 42-pound Rascal — when he heads off with wife Joanna aboard his trimaran Scrimshaw. Sometimes he carries a second kayak — a Wilderness Systems 13-foot-3-inch long by 28-inch wide, 50-pound Manteo. These are called "sports and recreational" kayaks, as opposed to "touring" kayaks, and Wildernes Systems has one other that falls within a size range that can be stowed easily on the deck of a sailing boat. This is the Pungo, which is 12 feet 1 inch by 29 inches, and weighs 50 pounds. These are all relatively short, lightweight, easy to launch and to get aboard, Jim says, and their polyethylene hulls don't mar the topsides and deck. And, he adds, when someone takes the dinghy on a mission, if a kayak is aboard, no one is left stranded in an emergency. Suggested retail price of the Rascal is $449; the Pungo, $529; and the Manteo, $639. Not a lot of money for all the joy and convenience they can provide!

"They're a marvelous conversation-starter with the Bahamians, the Cubans and the Mexicans," Jim told us. "They're a great way to go visiting when you pull into a remote cove or village."

For More Information

Britannia Boats Folding Dinghies
P.O. Box 5033
Annapolis., MD 21403
phone: 410-267-5922.

Porta-Bote International
1074 Independence Avenue
Mountain View, CA 94043
phone: (800) 227-8882

Wilderness Systems
110 Surrett Drive
High Point, NC 27260
phone: (336) 883-7410