See more articles
Electronics Upgrades for Under $1K
Want to upgrade your electronics on a fixed budget? Here are five ideas to maximize the bang for your bucks.
Wouldn't it be nice to have a spare $1,000 for a marine electronics upgrade? [Enter to win our contest by telling us your upgrade story, and you could be a quarter of the way there. –ed.]

Maybe you'll get lucky with a scratch-off ticket. Or the tax man will be a little kinder to you then usual this year. For whatever reason, let's pretend that you've suddenly found a thousand bucks in your pocket and you have a serious urge to spend it—naturally, you'll head for the boating supply store.





Now $1,000 isn't enough cash for a complete re-do. But you'll be able to make some nice upgrades that will help bring your boat's brainpower up to date. Here are the top five ways to maximize the bang for your electro-upgrading bucks:

1. Weather Works

Most modern chartplotters can display Sirius/XM satellite weather with the addition of a black-box module and an antenna. Hardware prices will vary quite a bit depending on the manufacturer of your electronics, but these generally range from $350 to $900. Subscription costs to activate the satellite weather service range from $13 to $60 per month after a $25 activation fee.

What will you get for dropping that dough? Plenty. You'll be able to overlay real-time weather on your chartplotter, showing everything from frontal boundaries to lightening strikes to sea surface temperatures. After testing the Sirius system for a season, I found the ability to track thunderstorms was the most useful feature – it saved us from getting caught by squalls several times. When a storm appears on-screen you can place the cursor on it, and see the direction and speed of travel, distance in miles, and wind speed, long before it threatens to hit you.



2. Sound Off

Don't you wish you could yell loud enough to chastise that guy who just waked you at 60-mph? Well, you'd be able to if you added a loud hailer to your system. You'll only need to spend $300 to $700 for a hailer, most of which put out 30 watts or so. Oh yeah, and it'll also have a few practical uses, like automatic fog sound signaling, "listen" modes, and alarm system connectivity.



3. Get a Boost

Cellular communications are convenient on a boat but you can't count on the signal getting through, especially if you cruise offshore or through unpopulated areas. Digital Antenna has the solution: a repeater, like the 4KSBR-50M ($800). Plant one of these three-watt puppies on your boat and it'll wirelessly feed multiple cellular lines (excepting Nextel) a 30-mile boost. What, you're only worried about one cell at a time and you don't mind being leashed by a chord plugged into your handset? Then go for the Powermax DA4000 direct-connection cellular amplifier, which works with most cell phones or air cards, and can extend your range up to 50 miles. Exact range will depend on antenna height, cabling, and several other factors, but any way you cut it your cell range goes way, way up.

Now, are you ready for the good part? This unit only costs about $300. That'll leave a nice chunk of change in your hands, which you can take on a cruise to Atlantic City—and you'll be able to talk it up on the cell until you tie up at Trump's.



4. Advantage: Airmar

Buying a new fishfinder would cost a ton of dough, but if you have a transom-mounted transducer you can increase your unit's performance with an investment of $400 to $1,000. That'll get you one of Airmar's TM series one-kilowatt transom-mounted transducers. These grapefruit-sized units will overshadow the performance of any other transom-mount, increasing your unit's ability to peer into the depths. Doubling a transducer crystal's diameter has the same effect as quadrupling the output power (because the larger the transducer is, the more focused its beam; think of a flashlight set to spotlight, versus floodlight). So you can make your unit act like a newer, stronger one, just by plugging in an Airmar TM.



5. Display Case

If you're sick and tired of staring at those boring, old-fashioned analog gauges trip after trip, it's time to swap 'em out for multifunction digital color gauges. These range from $450 (for a slick color all-on-one like Garmin's GMI 10) to the $750, 320 x 240 pixel Raymarine ST70. Then, you'll only have one problem: filling all those circular holes in the helm. Mmmm… sounds like you need to start buying more scratch-off tickets.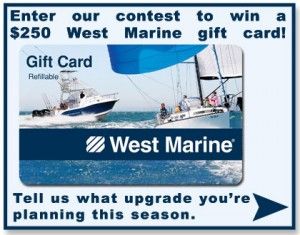 Editor's Note: This article is part of our affordable upgrades series. Tell us your upgrade story for this season and you'll be entered to win a $250 West Marine Gift Card.

Other upgrade stories:
Outboard Expert: $500 Upgrades
Towboat Upgrades for (mostly) Under $500
Six great upgrades anyone can afford
Low cost upgrades for go fast boats
Playing the engine upgrade game