See more articles
Fusion Stereo Updates Video: Quick Tour
Can really good get even better? You bet.
We're all big fans of Fusion's marine stereo systems here at boats.com, but we've also always felt that some of the components could use some improvement, such as the faceplate latching mechanism. Well, Fusion listened.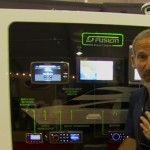 In addition to a more secure latching mechanism for the faceplate, Fusion added a universal dock, which allows iOS, Android, and Windows Phone smartphones–as well as iPods and other media players–to link into the system and play your music. Nifty!