See more articles
Class40 Ocean Racers Gathering Steam
The new Class40 from Samuel Manuard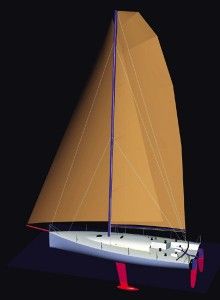 Mini 6.5 specialist Samuel Manuard is the latest in the line of designers queueing to launch boats for France's new Class40 which was officially launched in Paris in January

In conjunction with the Bepox shipyard we recently began work on the first of our new 40-footers, designed to fit in the new Class40 Jauge. This class was initially inspired by the Production 650 Mini fleet; its aim is to develop a new generation of fast, simple and cheap ocean racers. The boat is really a big Mini rather than a small Open 60 in terms of deck layout, sail/rig design and technology. The concept is optimised for short crewed or singlehanded ocean racing, but it should also be very enjoyable to race around the buoys. We believe that there is a gap for a fast and modern, but thoroughly seaworthy design of this type.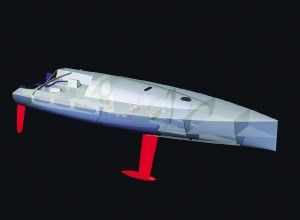 Our design boat is equipped with two lateral water ballast tanks of 750ltrs each. The ballast is kept low in order to keep down the CofG of the ballasted boat and to increase safety at extreme angles of heel. The water ballast is further sub-divided into two (fore and aft) sub-sections in order to control the longitudinal trim. For instance the aft tank would be full for reaching whereas the forward one would be used from 10knots of wind upwind; and then from 15knots both tanks on one side would be used.

The appendages consist of a steel fin and a lead bulb for the keel and two rudders that are mounted on the transom - a simple and efficient set up. Neither daggerboards nor canting keels are not permitted by the Class40 rules, which helps in controlling the cost and complexity of the various designs.

The internal layout depends on the owner's preferences and sailing programme, and can be adapted for anything from racing-only to cruiser/racing to performance cruising. The basic layout features a very secure navigation area, a small galley and moveable bunks for use at sea. Downwind or at anchor, the fore and aft volumes of foam that go to making the boat unsinkable also make three perfect double bunks!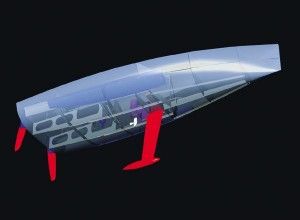 The Class 40 is built in Durakore strip sandwich of glass and epoxy for the hull, while the deck and structure use a sandwich of glass/PVC foam/glass. Carbon fiber is not allowed by the Class40 rule except for spars. This limitation on materials is already helping to produce good value for money boats, keeping away from the cost excesses of the Open 60 type. Nevertheless this boat will offer speed and sensations of power and great surfing, which is what modern sailors are looking for.

And in the longer term, we believe that these boats could well enjoy a second life with a smaller rig and a smaller keel once the owner has played around and moves on to wanting a more conservative boat for cruising.
On the water price for our new Class40 is approximately 350,000 euros depending on specification.