See more articles
Grady-White Express 330: Full Enclosure
Year-round boating just became a lot more comfortable with this integrated hardtop design.
Express fishboat designs like that of the Grady-White 330 have a lot of advantages: the centered helm makes for easy operation, the captain can remain socially engaged with the crew since he isn't up on a flybridge, and he's close enough to the action to dart from the helm to the cockpit and vice-versa, so he can work rods or gaff fish. But there are downsides to this design, as well. The biggest? Climate control, or lack thereof. The express design results in a relatively exposed command bridge and passenger areas, which are commonly protected by nothing more than isinglass windows. In the chilly months they leak cold air. In the summer months they fail to effectively contain air-conditioning (or have to be rolled up or removed and stowed to let in a breeze). Year-round they leak water and force you to look at everything through a blurry fog. That's why Grady-White designed a new-age express, with their optional integrated hardtop design. The latest to hit the water is the Express 330 Integrated Hardtop, and if you plan to boat year-round in all kinds of conditions, it might just be your ticket to comfort.





All-Weather Wonder

The ability to stay cool in the summer and warm in the winter is reason enough to consider an integrated hardtop design, but there are some other advantages, which the Express 330 delivers in this unusual incarnation. The first one you'll notice is a significant visibility boost. When I ran the 330 out of a busy marina, it only took a second or two to realize that I was able to look off to port, to starboard, and virtually all around with an unrestricted view. Gone were the aluminum pipes and supports that usually obstruct sightlines. Instead, there were only window frames at the corners of the three massive panes of laminated glass.

Worried about the structural integrity of an aluminum skin-over-pipe structure, versus the usual pipework and fiberglass? Don't be. Half-inch studs are welded on to the base of the top's supports, and the top gets bolted down and sealed with Bostic 960. It's every bit as solid as traditional express hardtop construction, and weighs about 12 pounds less—in part, thanks to getting rid of all those eye-obstructing pipes.

Other advantages this top brings to the table include integrated lights, stereo speakers, grab rails, and a track for drop-down canvas aft. Natural breezes are afforded by an electrically actuated front vent in the windshield, plus an overhead Bomar hatch. Each wing supports a trio of rodholders, and life jackets stow overhead in a mesh support on the underside of the hardtop. Put all of these factors together, and you get an express that's just as usable and comfortable in blowing snow as it is in the blazing Florida August sunlight (assuming you opt for the 12,000-BTU helm air-conditioning system).



Alas, as in all things boats, there are some trade-offs to the design. When the weather is perfect, you can't completely open up the helm by removing the side and forward curtains. And some boaters aren't excited by the look of the integrated hard top; the aircraft-grade high-gloss polyurethane paint may provide an excellent finish, but the lines say "pilothouse" more than "panache."

Foul Weather or Fair

When it comes to comfort, a full enclosure can only take you so far—you need a wave-eating hull to back it up. Fortunately, the 330 has it. The first time I ran this hull was on a wind-blasted Albemarle Sound, when a solid 25-knot breeze had churned up a four- to six-foot washing machine of pain. Except, that is, for those of us on the Grady. Despite the seas we upheld a 30-mph cruise while running into a quartering head sea. We threw a lot less spray than I expected, and head-on collisions with near-vertical water didn't cause the vertebra-compacting impacts common on most boats of this size.

Credit goes to Grady-White's variable-deadrise, Ray Hunt designed hull. It starts off with a razor-like entry, tapers to around 30 degrees of deadrise amidships, and then down to 21 degrees at the transom. Extra credit for the extraordinary seakeeping abilities go to Grady's construction techniques, which make for a solid, vibration-free ride. Structural integrity comes courtesy of foam-filled stringers, a hull bottom of solid glass, hullsides cored with balsa for added stiffness, and belowdecks voids filled with foam. Every piece of hardware (which is all 316-grade stainless steel that has been passivated in an acid bath to remove casting impurities) has a backing plate behind it. Accessories and parts are constructed with just as much care and just as much beef: Gas-assist struts support every hatch, and those hatches are RTM (resin transfer molded) for the optimal resin-to-glass ratio, so they're as light and strong as possible. They're also fully finished on both sides. Those hatches all dog down so they don't slap or bang in rough conditions, and their tolerances are so tight that they close with a swoosh instead of a slam.



The second time I ran this hull we had calm conditions, which gave me the opportunity to throw down the throttles and see just what 700 Yamaha horses could do with five and a half tons of fiberglass in front of them. At a reasonable 4500-rpm cruise we averaged 38.5 mph, and when those horses ate their oats at full tilt, the boat hit 50.4 mph. Cruising economy shakes out at about 1.1 mpg, and at wide-open throttle, 0.75 mpg. Choose the 300-hp Yamahas, and you should see both cruising speed and top end drop by about five mph. Get the minimum power available, twin 250s, and you can expect to shave off a few more mph while seeing a very minor improvement in fuel economy – about a tenth of a mile per gallon.

Fishing Devotion

No matter how sweltering hot or freezing cold it may be outside, when you get where you're going it'll be time to strip down or bundle up and step from that comfy command bridge into the wide-open fish-fighting arena. As on all Grady-Whites, this is serious angling turf that's decked out with all the goodies: a 45-gallon lighted livewell to starboard, a bait/rigging station with sink to port, a 254-quart overboard-draining fishbox in the transom, coaming bolsters, fresh and raw water washdowns, four gunwale-mounted rodholders, four under-gunwale rodracks, and a 56-quart removable cooler. On most boats, you'll need a price list and a calculator to figure out just how much all of this stuff would cost you. But on the Grady, it's all standard gear.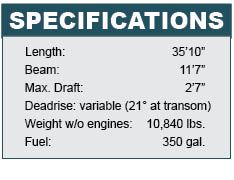 Have some extra money in the boat fund? Spend it in the fishbox and have the factory laminate in the optional freezer plates with a digitally controlled thermostat—you'll never have to lug 40-pound ice bags down the dock again. What about a fighting chair? Adding one is up to you, but Grady-White has already done all the prep work; they laminate a fighting chair reinforcement plate into the deck on each and every 330.

An enclosed hard-top express design like the 330 might not be for everyone, but its advantages are undeniable. So if you plan to fish in everything from blizzards to blazing sunshine, check this one out.

Similar Boats to Consider

Pro-Line 32 Express Pilothouse, Everglades 320 EX, Stamas 320 Express.

Where to Learn More

For more information, visit the Grady-White website.

There's also an excellent Grady-White owner's forum



Lenny Rudow has been a writer and editor in the marine field for over two decades and has authored five books. He runs his own web site at HookedOnFishingBoats.com and writes weekly for Boats.com reviewing new models and covering marine electronics.