See more articles
Great Gear for Under $50
These affordable extras should be on your shopping list - they're good for boating and good for your wallet.
If you're like most boaters, you can't get out of a chandlery without spending $100. So good news, here are a half dozen useful items for under $50.





Seawatch UV Sensor
It's tough to tell the level of sun damage you are inflicting on your skin and eyes over the course of a day on the water, especially if you can't feel the sun due to the wind. But here's help in the form of the Seawatch by JDC, a digital chronometer with a built-in UV sensor which continuously displays the UV index and provides the wearer with instantaneous and accurate ultraviolet radiation data. The Seawatch alerts you to the maximum amount of recommended UV exposure and displays the index recorded. You need to point the watch so the sun's rays hit it at a right angle for the readings, which adjust every ten seconds, to be most accurate.

The Seawatch also displays hours, minutes, seconds, month, day and year and can be used as a fitness watch because it will count elapsed time and lap time. The Seawatch even has a countdown timer with beeps for the last five seconds so it can be used as a simple start watch on race day.

The Seawatch is about the size of a large wristwatch, is waterproof and has backlighting, timer and alarm functions. It retails for $49.



Solio Mono-i

Charge your cell phone, Bluetooth headset, iPod, GPS, camera or other mobile gadget while lounging on the sundeck with the Solio Mono-i, a single solar cell charger that keeps you powered up and connected in remote locations. Solio scaled down the size and price of their classic solar chargers so the Mono-i is only $49.95 but it will charge over 3200 devices. And since it's roughly 5"x1"x1", you can slip it in your pocket when not in use.

The Mono-i has an internal lithium ion battery that will charge via the sun, a USB cable or an optional wall charger. It comes with a device charge-out cable, a USB charge-in cable and one free tip of your choice so you can pick the adapter you'll use most often or buy others for $9.95 each. The power output is 4 watts and one full Solio charge will give you about 3 hours of iPhone talk time.

This handy little battery booster will hold a charge up to one year so it's always ready and it will never cause damage through overcharging.



EZ Splice Fasteners
Splices can be a thing of beauty but unless you have the skill and the time, you can't beat EZ Splice fasteners that let you simply hammer your way to a custom spliced solution. Just cut a line, tape the end with the included tape, place that end in the fastener and drive in 6 stainless steel pins with a hammer. Then insert the remainder of the line in the other side of the fastener to make an eye any size you like and drive in 6 more pins. The fasteners work with three strand, braided, nylon, polypropylene and polyester line. They won't rust and are UV and corrosion resistant. These patented polymer fasteners even work with shock cord to make stretchable spring lines and they're strong too as the line will fail before the fasteners do.

EZ Splice fasteners come in two sizes: ½" for line 3/8" to ½" and 5/8" for line 9/16" to 5/8". They are available in white, black or blue and retail for $20-25.



Princeton Tec Remix Headlamp
There are lots of headlamps available but the new Princeton Tec Remix is light, bright and affordable at only $45. The Remix has three 5-watt LEDs which are red to preserve your night vision and one Maxbright white LED for spotting at a distance. Both the distance and proximity lighting can be set at high or low levels to provide the amount of light you need. A large push-button switch is easy to find even with wet hands or gloves and the one-point swivel on a bracket lets you aim the beam wherever you need it.
Weighing in at just under 3 ounces, the Remix is lightweight and doesn't require a heavy battery back at the back of the head. The battery compartment is easy to open with a positive snap closure. The Remix packs a powerful 45 Lumens which means it's bright but has a burn time up to 200 hours on only 3 AAA batteries which are included.
The Remix features a comfortable headband, is water resistant to IPX4 standards, and carries a one-year warranty.



Revere See-Me Rescue Light
In a literal sea of rescue lights, Revere's USCG/SOLAS-approved See-Me LED PFD light shines as a bargain that's bright, long lasting and durable. The See-Me comes with or without a strobe function and has no bulbs to break or burn out. These long-lasting emergency lights are water activated and are microprocessor controlled so they maximize brightness and run time. In auto mode, the See-Me will time out after 2 minutes when not in the water but you can also twist the top to turn it on manually and it will remain on until turned off manually.

The See-Me is made of tough polycarbonate plastic and is waterproof and shatterproof. It is only 5 1/2"long and includes a lanyard and a clip to attach to all PFDs. The See-Me uses two AA alkaline batteries for USCG approval which will power it up to 16 hours, or two AA lithium batteries for SOLAS/USCG approval which will run it up to 96 hours. Batteries are not included.

The See-Me retails for $15-27 depending on whether or not you choose the strobe function and where you buy it but overall, it's one affordable little light.



Pro-Grade Clamp On Vise
Here's a versatile tool for small onboard projects that require a third hand. The Pro-Grade vise has a clamp-on base with a protective pad and can be mounted just about anywhere. It is fully adjustable with a swiveling head that inclines up to 90° with 360° rotation and that means you can work on anything from sunglasses to plumbing parts at any angle.

This handy vise has 3" wide, non-marking jaws covered with removable rubber pads. The jaws open to 2" and have a 1 1/8" throat depth. The Pro-Grade vise is made of powder coated cast aluminum so it won't rust and it's lightweight and small so you can store it anywhere.

Long a tool for fly fisherman and hobbyists, this vise let's you think outside the tool box. Fix hose connectors, fishing lures, galley items and even other tools like your Leatherman. It retails for $20 and will hold small objects better than your first mate.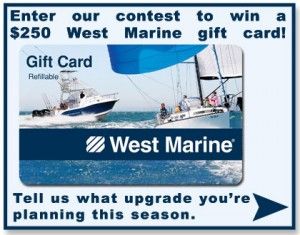 Editor's Note: This article is part of our affordable upgrades series. Tell us your upgrade story for this season and you'll be entered to win a $250 West Marine Gift Card.

Other upgrade stories:
Outboard Expert:  $500 Upgrades
Towboat Upgrades for (mostly) Under $500
Electronics Upgrades for Under $1000
Six great upgrades anyone can afford
Low cost upgrades for go fast boats
Playing the engine upgrade game