See more articles
Harris FloteBote Sunliner LS 220 Boat Test Notes
Jeff Hemmel provides detailed notes from our video boat review of this Sunliner pontoon boat.
Watch the Harris FloteBote Sunliner LS 220 Video Boat Review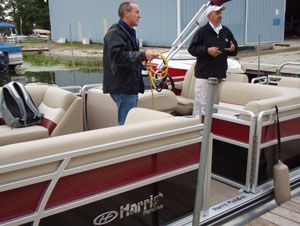 CONCEPT
• Layouts focus on cruising, fishing, and all-around family duty
• Speed, handling performance, ability to tow skiers and wakeboarders
• Luxury Series upgrade gives upscale feel over standard Sunliner, still at reasonable price point

CONSTRUCTION
• 25" Aluminum pontoons; individual airtight compartments
• Continuous outboard riser adds strength, also functions as skirting
• Lifetime-guaranteed marine plywood deck
• Cross-members alternate between heavier-duty C channel at the bow and stern for support, with Z-channel through center to reduce weight
• Cross members spaced at 16" intervals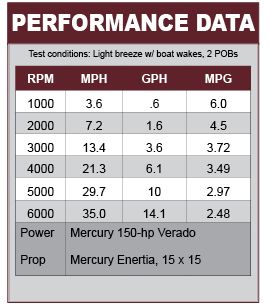 PERFORMANCE
• PIII Performance Package adds lifting strakes, below-deck aluminum skirting, and drops center tube 1" to mimic characteristics of a V hull
• Top speed: 35 mph w/Mercury 150 Verado outboard
• Low-end acceleration powerful enough for skiing/wakeboarding duties
• Less than 3.5 GPH at 20 mph cruising speed

HANDLING
• Handling characteristics of fiberglass V-hull
• Accelerates quickly onto plane
• Good stability underway, no excessive lean in corners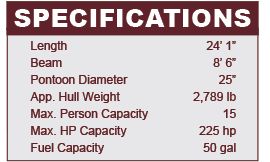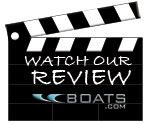 UNIQUE FEATURES
• Luxury Series (LS) upgrade increases helm size, adds upgraded helm seat, seat foam, graphics, vinyl highlight panels, docking lights, styling cues
• Center tube allows for large in-floor ski locker
• Vinyl formulated with Pre-Fixx, resists stains and abrasions
• Optional rear-facing lounger allows passengers to relax, view action aft. Within fenced perimeter, so can occupy underway.