Back to search results
Hefty Cleats
Accon's largest Pull-Up cleats could be a worthy addition to your motoryacht or cruiser.


Manufactured from corrosion-resistant stainless steel, Accon Marine's 15-inch-long Pull-Up cleats weigh 16 pounds. Each cleat extends and locks into place when in use. When not in use, it retracts flush with a boat's deck.

The cleats come with a 16-7/8-inch x 5-1/4-inch cutout templates, which also serves as the backing plates. The only other pieces of hardware required for fastening are 3/8-inch-diameter screws.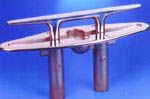 When extended, the Pull-Up cleat makes securing lines easy.

For more information:

Accon Marine, Inc.
13665 Automobile Blvd.
Clearwater, FL 33762.
(727-572-9202
www.acconmarine.com