See more articles
Hydra-Sport 4200 SF: Wow
After a quick look at this 42 foot sportfish in Fort Lauderdale, Boats.com reviewer Lenny Rudow is just one word short of speechless.


Built in underwater nightlights: Wow.

Kevlar in the hull: Wow.

1400 Horsepower: Wow.

27 flush-mount rod holders. Wow!

Look at the hardware on this dive door. Wow.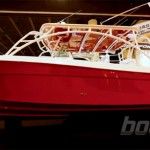 The Hydra-Sport 4200 SF: wow.

—Lenny Rudow

Watch the
" target="_blank"> Hydra-Sport 4200 SF Short Take on YouTube.