Back to search results
Lifeproof Fré Waterproof Case Review: Shelter from the Storm
Lifeproof's newest waterproof case is low-profile enough for everyday, but rugged enough to protect an iPhone 5 from the elements.
I have a wet life. I live near the water, I go out on small boats regularly, I walk in the rain. Once in awhile, I even get to go sailing for work.

So it's hardly surprising that my constant companion, an iPhone 4, started behaving badly a few months ago; presumably it was the victim of some salt spray I'd long since forgotten. When I realized I was no longer calling people because I couldn't count on them hearing me, it was time for a replacement. So off I went to the Apple store to pick up a new iPhone 5S.





Now Apple marketers, as we all know, are smart folks. So I will leave it to you to decide whether it was to create a better "user experience" or simply to sell more phone cases that they tweaked the size of the 5 (longer, narrower, and thinner than the 4). I was determined to protect this new investment from the get go, but the iPhone 4 Otterbox case I tested wasn't going to fit. Fortunately Lifeproof had already come out with a waterproof case for the new model—and like the new phone, it's a step up from previous generations.



I'd tested Lifeproof's iPad mini case a few months ago, and I knew their products did a great job without making the screen hard to view or use. But I was still pleasantly surprised by the slim profile and low weight of the Lifeproof Fré. I almost forget my phone is in a case at all, until it comes time to plug in headphones or charge the phone. It's less slippery than a bare phone, so not quite as easy to slide into a pocket, but that would be true of any protective case—even one not up to a salt water dousing.

Pre-installation test

Before inserting my new phone, I tested the case as suggested by submerging it in water (in a bowl in the sink, weighted down by a coffee mug) for 10 minutes. The inside remained dry, so I toweled it off and pulled out my new phone to perform introductions.

Snap-in place assembly

The case was incredibly easy to install. The phone drops into the front piece—though I learned the hard way that before installing, it's really important to clean every speck of lint off the inside of the case and off the phone screen. Any remaining dirt or residue will be magnified by the case, which is surprisingly distracting.



The back snaps on with a bit of finger pressure, though there were a few remaining gaps to be pressed closed around the edge. The final step to sealing the phone off from the elements is to screw the plug into the headphone jack and snap the charging door shut.

Thanks to fingerprint memory, the iPhone 5S can only be unlocked by me, and the case doesn't interfere with this at all. The unlocking is so automatic (press the home button and the phone turns on) that I forgot it even had a lock function—until one day when a friend borrowed my phone and was unable to turn it on at all. A nice feature from Apple, and the Fré makes it work even with wet fingers.

The one thing that seems a bit odd about this case (and other Lifeproof i-cases): the ringer switch is backward. On the bare phone, up is ringing and down is silent. Once inside the case, down is ringing and up is silent.

Real life testing

i took the phone sailing with me on a Saturday afternoon sail around Biscayne Bay on a Snipe, a two person, 15 foot sailing dinghy that is usually extremely wet. With water and air in the 80s and my phone so well protected, I didn't mind the constant dousing of salt spray. The case was slim enough to slip it into a lifejacket pocket (which made it handy for picture taking), but the phone was perfectly dry when I got back to the dock. And when it slipped out of my hands back on dry land, it bounced off cement with no phone damage. (The case has a few scratches, however.)

Touch screen and camera

The touch screen feels so similar to a bare phone that I don't think about it at all—as long as there's nothing trapped under the protective cover. The camera also works seamlessly, with no noticeable reduction in lens peripheral vision or depth of field. I had to remember to wipe off the lens area, but it seems fairly scratch resistant.



Lifeproof claims the case doesn't interfere with the speakers, but I have noticed that both the volume and the direction of sound are slightly altered. So working in a loud environment, even full ringer volume might not be enough to hear a phone call or music. Instead of coming directly out the bottom of the phone, the sound seems to come from the back of the phone instead.


Attachment Points

The charging door is easy to open and shut. Removing the plug to install headphones requires two hands (one to hold the phone and the other to unscrew the stopper plug), but with a little planning and practice that's a minor inconvenience.

Flotation

One very nice accessory is the Lifejacket. I forgot to bring it out sailing that afternoon, so I'll have to test its effectiveness on a future boat ride. It takes a little hand strength and some finesse to snap on and off. It also seems to be impossible to install it without turning the ringer on, or to remove it without turning the ringer off. Fortunately, the phone vibrates when the ringer goes off, so this is obvious.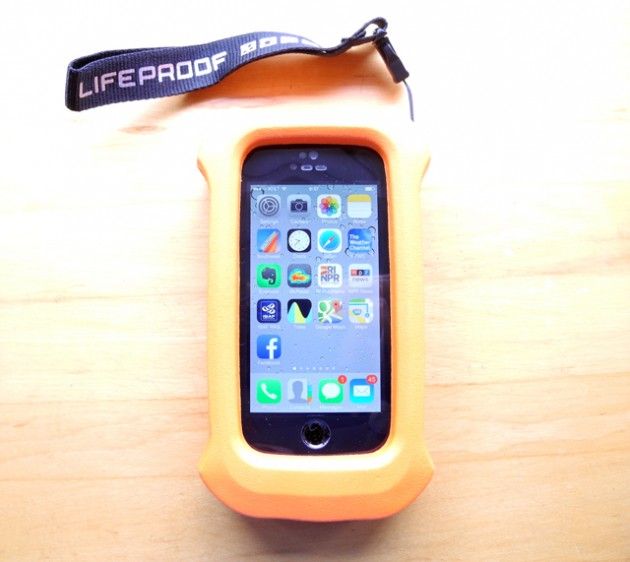 Once installed, the lifejacket doesn't restrict access to buttons, screen, or camera. It does add quite a bit of bulk, but it would also drastically increase the odds of retrieving the phone if I dropped it overboard.

Conclusions

After a few months of hard and constant use, I have yet to find anything really wrong with this case. I keep it on my phone all the time, since it's so unobtrusive. It's also a bit difficult to remove: unscrew the headphone plug, open the charging door, and then use a quarter or similar-sized coin to pry the case apart starting at the bottom right corner. Work around the perimeter, opening a little bit at a time. (I actually cracked the iPad mini case by trying to pull it apart too suddenly, and I could see how the same might happen with this case since the back cover is so thin.)

Now that my new phone is so well protected by the LIfeproof Fré, I will take more photos on the water. I can also sneak out for a sail or a paddle without anyone knowing I'm away from my desk. (Don't tell my boss.) And I can protect the phone itself from wet fingers, raindrops, and anything else that comes its way, thanks to this "necessory" of my wet life—which hopefully will mean a longer lifespan for my new phone.

For more info, visit Lifeproof.