See more articles
June 23, 2012: Olympic Day, Summer Sailstice, and Me
When so many great events all happen on the same day, how's a girl to celebrate?
Okay, I'm going to share a fact so secret it's not even on my Facebook page: Saturday, June 23, 2012 is my 48th birthday.

Now that's usually not significant to anyone outside a very small circle of friends and family. But this year, two other events collide with the Big Day that make it worthy of celebration—even outside the World of Me.





Every year in late June, the birth of the modern Olympic Games is celebrated around the world. Thousands of people in more than 160 countries take part in educational programs and other activities designed to promote fitness, well-being, and the Olympic ideals: Fair Play, Perseverance, Respect, and Sportsmanship. Organizations are encouraged to set up events between June 22 and July 1 in order to incorporate a weekend. This year, with June 23 falling on a Saturday, Olympic Day will be focused on that one day. And since the next Summer Olympics begin just 34 days later, it should be a big year for this event.

With 3159 "likes" on the Summer Sailstice Facebook page, this annual appeal to "Sail Locally, Celebrate Globally" obviously has support around the world. Summer Sailstice strives to "Unite all sailors in a global celebration of sail at the start of summer on the weekend closest to the solstice." 2012 will be the 13th event, and many events are planned already. Last year's featured events included a wedding on Lake Ontario. This year's long list of prizes includes a $5000 charter gift certificate.



Last year happened to be the first time I participated in either of these events. Though I missed the actual Sailstice day (Saturday, June 18), the event inspired me to armtwist a friend into what turned into a lovely sail on the actual Solstice (a Monday, last year). By doing so I kept my promise (made in a previous blog) to donate ten dollars for every mile sailed that night to Sailors of the Sea. I also took a time out from my regular routine to really appreciate being on the water, a joy I mostly take for granted.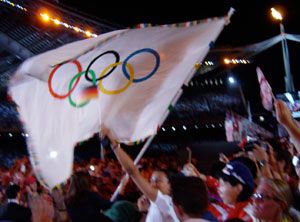 One week later, I helped celebrate Olympic Day at the New Bedford Community Sailing Club, waving the Olympic flag in front of a hundred or so kids who were new to sailing. They were so excited to meet Amanda Clark (2008 and 2012 Olympian), me… and to touch the gold medal of Maureen McKinnon-Tucker (2008 Paralympian). I like to think sharing our stories and our smiles inspired a few to continue on with the sport at some level… and maybe, someday, to reach for that lofty goal, the Olympics.

So how does an Olympic sailor appropriately celebrate her birthday, Summer Sailstice, and Olympic day, in a year when they all happen to fall on June 23?

My current plan is to go for a lengthy relaxed sail, perhaps circumnavigating Conanicut Island again.  Maybe I'll even fly an Olympic flag from the backstay.

If you've got a better idea, please pass it along. And also let us know via the comments below how you plan to celebrate any of the major events occurring on June 23, 2012.