Back to search results
Larson Group Rolls Out 11 New Models for 2013
The new retro-styled Larson All American 23 runabout celebrates a century of boatbuilding in the same small Minnesota town.
I was in St. Cloud, Minn. this week to see the new boat models from the Larson Boat Group, but first I got to wander through a display of historic Larson boats set up in the convention center where the company was holding its dealer meeting. Throughout the coming year the company, which was founded in 1913 by 19-year-old Paul Larson to manufacture a duck skiff, will celebrate its 100th anniversary—and its successful rebound from the 2009 bankruptcy of the Genmar boat group.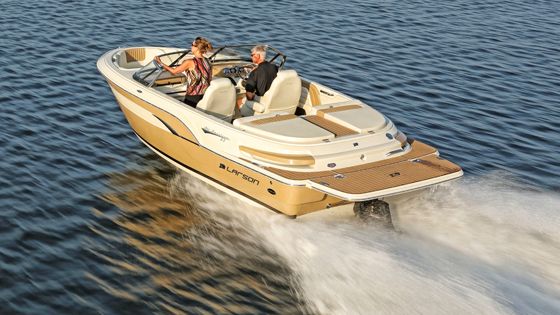 Big, roomy and luxurious, the Larson All American 23 is styled to celebrate the company's 100th anniversary.

Larson Boat Group, which includes the Larson, Striper and Triumph brands, will offer 11 new boat models in 2013, and would like us to note that it has introduced 31 new models in the past 31 months. Larson is not sitting around waiting for the economy to recover. Best of all, all three brands are manufactured in Little Falls, Minn.

All American Throwback
The key new model in the Larson line is the All American 23, a 23-foot luxury bowrider styled with more than a few references to the heritage of the company, most notably the dipping bond line and stainless steel cove vent on the hull side. It's available in a tan color that has not been seen on a new boat in a generation or more, and also features a curved stainless steel windshield frame, a wide cockpit with a huge aft bench seat, and a standard extended swim platform with a synthetic teak mat. The All American will be the largest boat manufactured with the exclusive VEC closed mold system.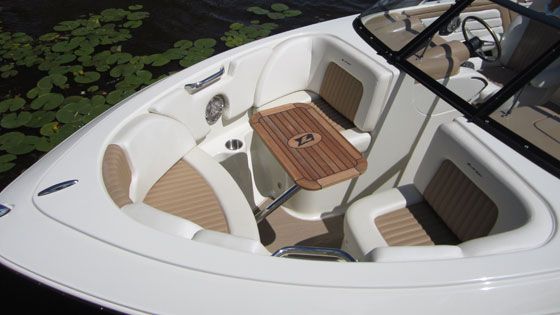 Bow seating in the All American faces forward.

Larson
Other news from Larson includes the introduction of three sporty LSR models at 20, 21 and 23 feet. These boats are distinct from the other Larson runabouts, not just different because of an option package added to an existing platform, and they are finished in dramatic black gelcoat with red and silver accents all around. Larson is also expanding its FX line of freshwater fishing boats with a new 20-foot platform offered in a tiller, single-console and dual-console layout. Larson plans to establish the FX line, which also includes 17- and 18-foot models, as a brand separate from the Larson sport and cruiser models. The FX boats are intended to offer anglers fiberglass looks and solid VEC construction at a price significantly lower than prestige glass and aluminum multi-species boats.

Striper
Not much news for this line of saltwater fishing boats (based on former Sea Swirl models manufactured in Oregon). The most popular models remain the cozy walk-around cuddies, and for 2013 the flagship 2901 Walkaround gets a bump in outboard horsepower rating, from 500 to 600 hp, so it can be rigged with twin 300s. A new Striper model, the 220 WA, is due in late fall 2012 and will appear at winter boat shows, according to Larson. It will feature twin fish boxes and an upscale cabin.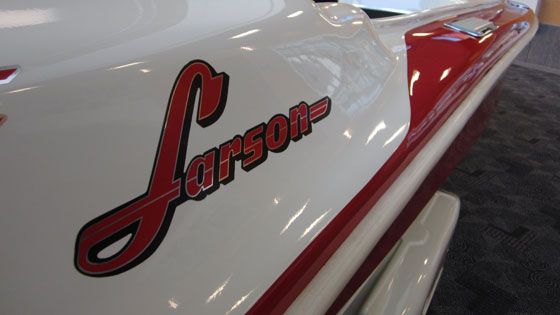 Larson has been around so long it once offered a runabout with tail fins.

Triumph
All production of the Roplene roto-molded plastic Triumph boats has been moved to a new building at Larson's Little Falls, Minn. facility, and the brand is going after fresh-water anglers with three new models: the 170 Side Console, the 186 Side Console and the 186 Tiller. Molded as a single piece (hull and deck together) of a material that has proved to be extremely durable, these boats are unsinkable and simply bounce off rocks and stumps. A Triumph may not be as pretty as a painted aluminum or metalflake glass boat, but for 2013 the looks of the line are improved with a softer white color, new hull-side graphics, and a stainless steel rub rail.

During my visit, I tested the Triumph 186 Tiller, the FX 2020 DC, and the Larson All American 23. Watch for reviews of these models in coming posts.

Read our full review of the Larson All-American

Read 3 Top New Powerboats: Hacker, Larson, and Morgan on boats.com UK