Back to search results
Lowe Stinger 175 Boat Test Notes
After putting this fishing machine through its paces for a Boats.com video review, Lenny Rudow submitted some detailed notes.
Overview: Multi-species fishing and good performance in an extremely well-built but easy to handle boat.


View the Boats.com Lowe Stinger 175 Video Boat Review
CONCEPT


Create a multi-species fishing machine that has the beef to take on relatively rough lakes and reservoirs, for years on end


Deliver performance that's a grade above what you expect from an aluminum freshwater rig


CONSTRUCTION


All-welded aluminum hull created from two extruded sections,

Mig-

welded together down the keel, supported by "powergrid" aluminum structure


Wood-free


Aluminum deck


Integrated chines and strakes


Beefy console construction backed up with aluminum supports


PERFORMANCE


Hit top-end speeds in the 40-mph range, and cruise in the 30's


Handling a one-foot chop is no problem


Time to plane is best described as a blink of the eye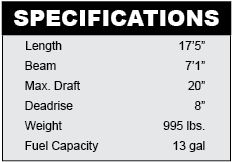 HANDLING


Tracks straight, responds to tweaks at the wheel


Easy to handle dockside; launching and loading onto the trailer is a breeze


FEATURES


Reinforced console is rock-solid


Welds look clean and free of anomalies


Enhanced passenger comfort (12-v plug, thickly-padded seats, legroom under console) accessories/details



To learn more, visit the Lowe Boats website.