Back to search results
Lowe Stinger 175: Video Boat Review
Our test of the 17-foot Stinger shows that it offers good fish-ability and all-aluminum construction.


Read Lenny's Lowe Stinger 175 Boat Test Notes

VIDEO BOAT REVIEW TRANSCRIPT

One of the boats we're going to test today is the Stinger 175. Now this a boat that offers that offers mid-range performance, good solid fishability, and has some really unique construction features that come together to make it a strong boat. So it should be of interest to a lot of fishermen who are into multi-species fishing with maybe an emphasis on bass.

CONSTRUCTION
If you're gonna spend your hard-earned money on a new boat, you want to know it was built right, dontcha? So what we did is we had Tony Johns from Lowe come down here to talk to us about how the Stinger is built.

LENNY: As I understand it, you have two pieces of aluminum, right? They're extruded, they're turned up, and they're joined in the center by this keel. Now you can see the welds in the front of the keel. How come I can't see welds running down the outside of this keel?

TONY: It's all welded from the inside. In the manufacturing process, the hull's sitting upright in a fixture, they load both halves into this skin that we're talking about, and then they weld it from front to back, all the way down with MiG welds. With this boat we use what's called the power grid system. It's a stringer assembly that really gives the maximum support you can possibly get out of an aluminum boat. From the bottom to the floors to the decks, it just kinda locks everything together.

LENNY: The deck on this boat is also aluminum, right?

TONY: The deck is aluminum. This boat is one hundred percent wood free, all aluminum construction.

LENNY: Interesting feature about the construction on this boat cause a lot of times you get on a small boat and the console is, in my opinion, not strong enough. This one you can beat on it, you can jerk it, you can grab the wheel and yank it, and it isn't moving. Why is that?

TONY: What we have here is an acrylic console with fiberglass reinforcement, and then we also support the helm from the back side of the console down to the front bulkhead which absolutely makes it as strong as we could possibly get it.

LENNY: Now how is that supported, use a piece of wood?

TONY: No wood. (Laughter)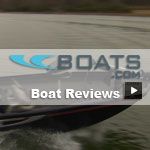 TESTING THE RIDE

LENNY: So Tony, how fast do you think this boat'll get up and out of the hole?

TONY: 3 seconds.

LENNY: Three seconds? All right I'm gonna trim her all the way down, to start out with the most punch, and start to trim her up as soon as we get some air. You ready?

TONY: I'm ready.

LENNY: I think we got three seconds beat…

TONY: I think we hit it.

LENNY: A fun little boat to zip around in, isn't it?

TONY: It handles really good.

PERFORMANCE DATA
Now we tested the Stinger with the maximum power plant, that's a 75 HP four stroke, and with that we found that we got a cruise of 33.1 miles per hour, so it's really got plenty of cruising speed. Top end? Right around 40, and we tested with an aluminum prop. So you put a stainless on it, you're gonna break 40 miles an hour.

FEATURES
This little piece of foredeck, which most builders would just leave plain flat aluminum, has non-skid on it. So I can stand up here and I can use this part of the boat.

First off notice the support they put on the hatch — it's good, it won't bend, you can step on it, stomp on it. A lot of boatbuilders leave that off of there. Now it has a rotomolded liner which is nice, it makes for real easy cleanup. You got all your minnows swimming around in here right now, but normally you put your larger fish in here, your catch of the day. And it'll be really easy to get your minnow later, because… you pull this up…you got a minnow bucket.

One of the things I really like about this is you've got lighted rocker switches. When you turn 'em on a little light comes on, so if you hit one by accident throughout the course of the day, any time you glance down you'll notice that something's on and running.

I hate it when a bunch of bugs and dirt gets stuck between the windshield and the console. Happens on all boats all the time. Looks terrible. Fortunately they put some quick releases here so you can pull this windshield right off, clean it up, and then put it right back on.

WRAP UP

All together, this is a really solid package. You get pretty good performance, really good construction, and a complete package with a boat, motor and trailer at a reasonable cost.

For more information, visit Lowe Boats.



Lenny Rudow has been a writer and editor in the marine field for over two decades and has authored five books. He runs his own web site at HookedOnFishingBoats.com and writes weekly for Boats.com reviewing new models and covering marine electronics.