Back to search results
Lowe Stryker: Video Boat Review
Our test of the Stryker finds a stable back-to-basics aluminum fish boat.


Read Lenny's Lowe Stryker Boat Test Notes

Read his review:  Lowe Stryker: More Boat, Less Money

VIDEO BOAT REVIEW TRANSCRIPT

Now let's say you're looking for a new fish boat. Maybe it's a starter boat, relatively inexpensive package, boat motor and trailer all together…something in the sixteen foot range. Let's say you want to multi-species fish.  You want to go for walleye in big lakes, you want to go for bass in the reservoirs, you want to catch crappie in the river, whatever. One boat you're probably going to be checking out is the Lowe Stryker.

INTERVIEW WITH TONY JOHNS FROM LOWE ENGINEERING

LENNY: You have a lower foredeck. We've got a little more protection from the water; you're not quite as high as on a bass boat. I believe I noticed earlier, no matter where you sit on this boat, you can reach a live well, right?

TONY: Absolutely. You have a live well located right here in the rear deck, and then in front of the driver console, right there, is another live well—aerated live wells.

LENNY: As I understand it, a lot of boats in this size range, and of this type, they're going to have a beam of about 48". Gets a little wobbly when you're standing up and going back and forth. How did Lowe address that?

TONY: This boat actually has a 55" bottom and a 74" beam, which puts this boat, in its class, way above the competition, for sure.

LENNY: I noticed when we were out running—and you can see it on tape – this is a surprisingly stable boat for a 16'1" LOA boat.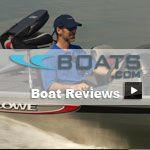 One of the things I really loved when I got on this boat was this nifty little feature – here, look at this: the seat stays down until you pop the button in and pull it back. Tony, that is a great feature. I love it.

TONY: Absolutely.  When you have those straps on the front of the seats, a lot of times when you take those fishing seats out, people tend to use them as handles.  They're not designed as handles; you end up pulling the straps out of them, and then you have nothing to hold your seatback down.

LENNY: They always break. This is great.

One of the nice little details I spotted on this boat is that when you pull open the anchor locker, they not only drilled a hole so that water can drain out of there when you put away your wet anchor and line; they also lined it with a piece of rubber, a little grommet, so that you won't cut your hand on rough, jagged edges if you reach down there and happen to run your hand across.

Lowe uses this gunwale as a handhold, and they've shaped it nicely; I can wrap my finders in here and really grab and get a grip. If this were my boat, I'd add another handhold. I'd want something right here to really grasp onto. But I like this layout, and I like the design.

You've got a really large access hatch back here in the aft deck. It gives you good access to your fuel tank and your battery. The downside is that the rigging kind of gets in the way of the hatch. It's not a big deal, you just move it out of the way, and you've got to move it out of the way again. It's a little bit of a trade-off—it gives you easy access in exchange for having to fight that a little bit. But the rigging wires have to be somewhere, so in my opinion it's a good trade-off.

TESTING THE RIDE

TONY: This is really just kind of a back-to-basics style bass boat, or fishing boat—smooth ride, good handling, good speed…

LENNY: I'm not trying to blow your hat off, I promise.

PERFORMANCE DATA

We tested the Stryker with a 50-horse Merc, the maximum horsepower available, on the back of the boat. We found we had a cruise of 27.2 miles an hour, and we were burning 3.2 gallons per hour. Now that's pretty darn good – that shakes out to about 8.5 miles to the gallon. You're going to get better mileage with the boat than you're going to get with some of the tow vehicles that bring you to the ramp in the first place.

WRAP UP

Now, the Lowe Stryker package. Look, it's not a big-water boat. It's not the fastest boat in the world. But look at the package you're getting – a trailer, a 20-horse Merc, and the boat -- for eight grand! I mean, come on, your monthly payments are going to be lower than your electric bill. So this boat allows you to get in the game for a very low cost.

For more information, visit Lowe Boats.



Lenny Rudow has been a writer and editor in the marine field for over two decades and has authored five books. He runs his own web site at HookedOnFishingBoats.com and writes weekly for Boats.com reviewing new models and covering marine electronics.