Back to search results
Malibu Offers Option Packages on 23 Ride
During boat show season, this premium tow boat company is sprucing up their entry-level boat with three tempting – and free – option packages.
Now that we're entrenched in boat-show season, Malibu is giving you your choice of three different option packages on their entry-level 23 Ride, which we recently reviewed on Boats.com. These packages, which normally run about $2,500, are offered at no additional cost.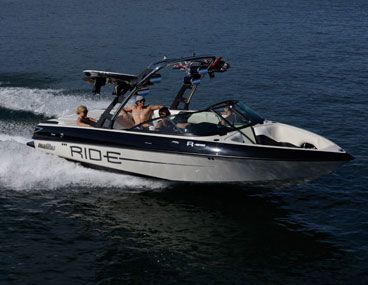 If you buy from a participating dealer at a boat show by April 2, you can choose Option A, the power Wedge system, which raises and lowers the wake-tuning foil with a button on the dash. Option B lets buyers pick two of the following options: a manual Wedge, Alpha II tower speakers, a second pair of Alpha II speakers, and a second set of board racks. Option C presents two of the following: Alpha II tower speakers, a second pair of Alpha II tower speakers, or a second set of wakeboard racks.

And, as they say on late-night infomercials, "But wait! There's more!" Buying a 23 Ride at a boat show this season gets you an iPad preloaded with the Malibu Experience app, which contains an interactive owner's manual, buyer training, automatically updated wakeboarding content, a beginner's guide to boating, and intermediate rider and driver how-to information.

Were it ours to equip, we'd go for Option B's manual Wedge and the second set of board racks. We'd probably pay the extra cost for the rear ballast system—for those times when lots friends just can't be found—and that's probably it. The standard engine should push it along just fine, and even with that minimal trim, you have a tow boat that you can be satisfied with for a long time.