See more articles
Manic Monday Videos: Guam bottom fishing
Fishing fanatics unite — these guys catch a fortune's worth in Guam.




These are some BAFs. Bigger-than-average fish, that is.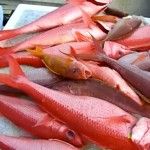 If you've never had an inkling to visit Guam, the fishing is one good reason. And really, what more do you need?

But even if you can't make it to the other side of the world, you can live vicariously though these guys.

What's the most common fish in your neck of the woods?