Back to search results
Manic Monday Videos: Sailing in 55 Knots
Incredible gusts threaten to overpower this French sailor.
An oldie but a goodie: French skipper Corentin Douguet keeps his Figaro Beneteau on her feet in big breeze.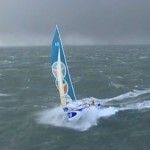 Have you ever sailed in a gale? Tell us about it in the comments.

Other Manic Monday videos:

Have a suggestion for Manic Mondays? Send it to editor@boats.com.