Back to search results
Manic Mondays: Jet Ski Jetty Jumping in New York City
Ever wanted to jump a jetty on a jet ski, in New York City? Now you can.
When we think of the Big Apple, boating isn't usually the first association. But thanks to a few guys who've turned a lifestyle into a business, now you can see different parts of this waterfront city from your own cockpit.  Jetty Jumpers has even been discovered by the New York Times, which created this video.



The company offers tours that vary in length from 1 to 3 hours and include various attractions, including Coney Island, the Verrazano Narrows Bridge, and even "getting up close and personal with Lady Liberty." Each ski has a 2 person capacity, so you can ride with a friend.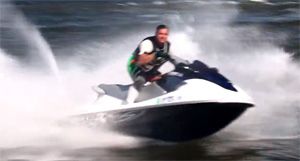 You can see more videos and photos and make reservations on the Jetty Jumpers website.

Toured any city fronts on your boat? Tell us about it.