See more articles
Mercury 150 Four Stroke Outboard Video: First Look
We found the Mercury 150 Four Stroke outboard engine temptingly quiet and smooth.
We didn't set out to film a video on the Mercury 150 Four Stroke, but we were on the water anyway to film a Bayliner Element XR7 and we really just couldn't resist temptation. The 150 Four Stroke is an incredibly popular mid-range outboard motor, and it hummed along so nicely that we felt we should take advantage of the situation. If this engine might end up on the transom of your boat, here's a First Look Video you don't want to miss.



Truth be told, I could hear the engine running when I knelt down next to it, and I was a bit surprised the sound didn't come through one iota on the video. Still, I meant what I said—the loudest noise the engine makes at idle is the sound of the water splashing from the telltale. For those of us who grew up with noisy, clanky, rumbly outboards, this is a huge feature. And, let's not forget about the complete absence of smelly smoke and bone-jarring vibrations.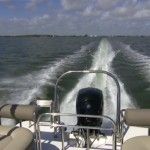 What about longevity? Obviously, that's not something we can really test out in one of these short videos. However, we've been running 150 Four Stroke models since they were introduced about five years ago (as a less expensive alternative to the Mercury 150 Verado outboard), and we have yet to see one fail. Sure, we're usually running new engines. But in a search for owner reviews, you won't find many complaints coming from the folks who run the same 150 day in and day out.

Some of you who run across this video will, of course, be in need of a smaller or a larger powerplant. Never fear, dear boater—we have a slew of in-depth outboard engine reviews and videos, covering everything from portable powerplants for jon boats and skiffs, to those rockin' huge monster motors found on gigantic offshore center consoles and high-performance speed boats.

If you want more info on the Mercury 150 Four Stroke, visit Mercury Marine.