Back to search results
MJM Yachts 40Z: Not Your Typical Downeast
Tradition and technology are united in this forty foot downeast style power cruiser.
What lies behind a boat like the MJM Yachts 40Z? Bob Johnstone has spent a lifetime improving, and sometimes completely redefining, the boats he owned and was involved with. In fact, he co-founded the radically innovative J/Boats sailboat company, which has produced some of the most successful racer/cruiser boats in sailing history. When he wanted a classic coastal power cruiser and day boat, he worked with Doug Zurn to create a modern take on the famous downeast look that incorporated the cutting edge of construction technology and creative hull design to significantly enhance seaworthiness. That was the 2002 birth of MJM Yachts.





Most Downeast boats are styled after lobster-boats and other commercial fishing boats of the Maine coast, featuring heavy hulls with long foredecks, open cockpits, and sheltered bridge decks. They often have full keels or at least long skegs, which makes them stable when coming up into the wind or current on a lobster pot. But that same keel is less useful in a higher speed recreational design;  it tends to "trip" the boat when maneuvering, leading to outboard lean and sluggish turns, which can be uncomfortable when touring and downright scary when running down-sea.

Enter the MJM design. The epoxy and unidirectional, tri-axial Kevlar fabric in the hull makes for an extremely light and strong structure. By keeping the deck and superstructure light, the center of gravity is down at the waterline; a tremendous addition to stability. The hull has a sharp entry with a somewhat flatter aft end, which, when combined with the available Volvo IPS pod-drive propulsion, allows spectacular maneuverability, speed, and smooth handling in head seas.

The 40Z is the largest in the fleet – there is also a 29Z and a new 36Z, as well as the MJM 34Z we reviewed – and it may be the only coastal cruising boat a couple ever needs. Here are some of the highlights:



It's large enough for family and friends to spend the day aboard, with single-level seating for as many as 15 people. That makes it a beautiful day boat for entertaining family and friends.


The comfortable overnight accommodations make it a great overnight, long-distance cruiser.


Joystick control of the IPS pods makes it ridiculously easy to maneuver around the docks.


Side-opening doors mean you don't have to climb aboard from the swim platform.


Line-handling is a snap.


With the optional (and typical) twin Volvo 370 hp Volvo D6 diesels driving the IPS500 pod drives, you can expect 1.2 nmpg at a cruise speed of 25 knots.





The overnight accommodations are comfortable and creatively flexible. The roomy forward master stateroom is complemented by a mid-stateroom/galley that can host a convertible dinette/double berth, or a settee where an upper berth is created by hinging up the backrest. The two settees in the pilothouse are also potential 78" berths. A clever design all told, accommodating up to six overnight guests.

This kind of design flexibility means the 40Z can serve multiple roles – picnic and cocktail party boat by day, overnight cruiser after the majority of the guests head home. A cruising couple will find there is stowage space in every nook and cranny, meaning a couple of weeks traveling won't necessitate leaving any luxuries at home.

And every MJM yacht is sea trialed in Boston Harbor, so every system is tested and calibrated to ensure zero defects.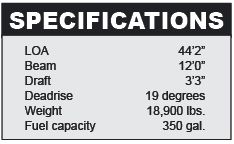 The typical buyer of an MJM 40Z has probably owned a number of boats and is focused on a boat that s/he can actually use – meaning it is easy enough to handle, and economical enough to run. The 40Z buyer will also be looking for a boat to keep, with the quality and durability to make it a family heirloom and not just one boat on the way to another.

For more information, visit MJM Yachts.

-Tom Tripp