Back to search results
Morrelli & Melvin Unveil the California 45
The multihull design company announced a collaboration with McConaghy Boats to produce a new racing catamaran with hydrofoils.
"I wanted to design a boat for guys like me – old. Hydro foiling boats firehose anyone on the other side of that trampoline and it's just uncomfortable once you're past your rock star years."





That's what Gino Morrelli says when asked why Morrelli & Melvin designed the all new California 45. Drawing on their experience with 72-foot foiling America's Cup catamarans, the cat specialists wanted to bring the excitement of world-class racing to the club sailor.

Although Morrelli laughs when he talks about age, there will be multiple comfort-oriented features throughout the boat. High coamings and a solid aft deck will keep the worst of the foil spray off the skipper and crew. Electric winches and an ergonomic deck layout will help as well. The all-carbon cat, which is loosely based on Morrelli's Formula 40, will have a rotating mast and two cabins below mostly used for storage. Best of all, the cat will be transportable in containers so it'll be easy to get one to the starting line of regattas around the country or the world.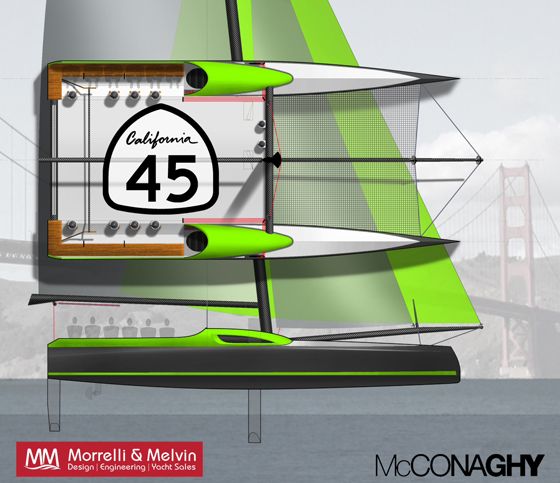 Morrelli, who is behind such renowned go-fast designs as Playstation, is excited by the prospect of having a one-design class of cats that are expected to sail at speeds of thirty-plus knots. He anticipates several to be built by September 2014 at roughly $800,000 each.

The builder, McConaghy, was selected as a partner due to their experience with cost-effective composite construction and performance solutions.

For more information, visit Morrelli & Melvin.